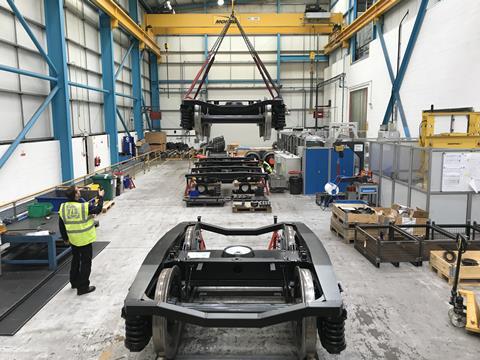 UK: ZF Services UK has gained RISAS accreditation for bogie overhauls at its Nottingham Rail Centre of Competence.
This follows 'significant' investment in equipment and training to provide the capability and expertise to overhaul a range of light rail, freight and passenger vehicle bogies.
Services include cleaning, full disassembly, shot blasting, non-destructive testing, weld repairs and component replacement. The company can also provide wheelset and traction motor overhaul services.
'This is a fantastic achievement following a year of hard work to develop the skills, tools and supply chain to deliver a first-class service to customers, complementing our axle and transmission services', said Sales Director Shane McCauley.
Railway Approvals has been the Railway Industry Supplier Approval Body for ZF Services UK since 2013. 'We supported ZF's bogie overhaul activities during the workshop construction phase and the whole process of approval, from the initial discussions, has taken just 18 months', said RISAS Lead Assessor Colin Walkden.