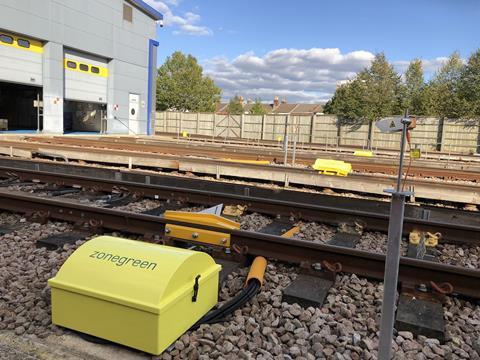 UK: Zonegreen has installed the latest generation of its Depot Personnel Protection System at the Northam site in Southampton where Siemens Mobility maintains rolling stock for South Western Railway. This follows a similar installation at Kings Heath in Northampton last year.
The supplier said the upgraded DPPS was more user-friendly than the earlier version, offering increased functionality and being easier to maintain.
New powered derailers have been integrated with the existing audible and visual movement warning systems. The tracks have also been equipped with the latest slimline road-end control panels, where staff log-on using personalised datakeys to create safe zones.
'Feedback from staff has helped us develop the New Generation DPPS and we are very pleased they are now benefiting from the advances we have made', said Zonegreen Technical Director Christian Fletcher. 'Northam continued to operate normally during our overhaul project and is now performing perfectly under the watchful eye of our state-of-the-art technology.'