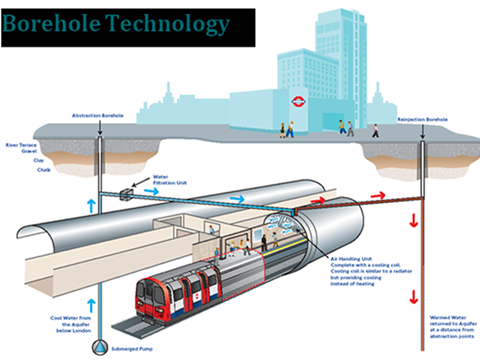 UK: London Underground has awarded Morgan Sindall a £9m contract to install a cooling system which will use ground water to lower air temperatures on the platforms at the deep-level Green Park station.
Cool water will be pumped from boreholes in the park, filtered and supplied to eight air- handling units on the Victoria and Piccadilly Line platforms. The warmed water will then be returned to the aquifer.
While air-conditioning is fitted to the new Bombardier trains being delivered for London Underground's large-profile lines, the smaller profile deep-level tube lines have little space for on-train air-conditioning, and temperatures on trains and at stations can get uncomfortably high in summer.
Victoria station is already cooled using a portion of the 47 million litres of water that are pumped out of the LU network every day.
Birse Metro is to install 14 air-cooling units at Oxford Circus station.