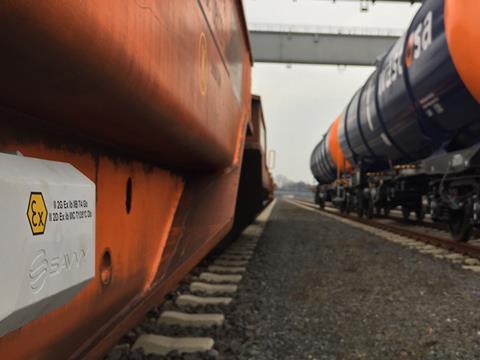 SWITZERLAND: A project to use wagons' onboard telematics units to provide an early warning of wheel flats has been undertaken by leasing company Wascosa and Savvy Telematic Systems, with the support of the Federal Office for the Environment which is seeking to reduce train noise.
Savvy has developed an algorithm for the firmware of its telematics units which evaluates vibrations against historical data, sending an alert to provide an early warning of potential wheel flats which it detects.
Data for the project was drawn from several hundred Wascosa wagons which have already been equipped with Savvy's CargoTrac-Ex telematics units. Intermodal wagons were selected, as these are amongst the most intensively used and cover an average of more than 100 000 km/year, with 200 000 km/year being not uncommon.
Savvy said the perception of noise from trains not only depends on the volume but also on the characteristics; a passing freight train might be audible from quite a distance without being annoying, but a wheel flat generates a 'distinct and unnatural' periodic thumping sound.
'The results exceeded expectations by far', reported Christoph Becker, Project Manager at Wascosa. 'We can effectively recognise critical situations, remedy them efficiently and have an additional tool to manage vehicle maintenance and continue to optimise our predictive maintenance process.'