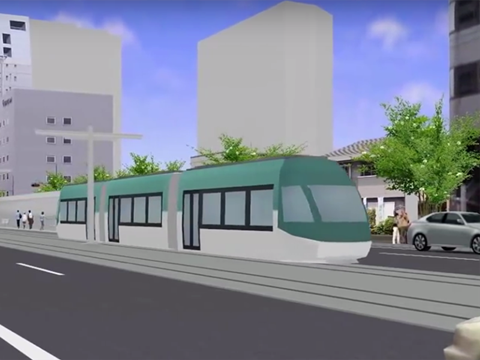 JAPAN: The Ministry of Land, Infrastructure, Transport & Tourism approved plans to construct a light rail line in the city of Utsunomiya on September 26.
The 14·6 km line would link Utsunomiya railway station with Shimotakanezawa in the neighbouring town of Haga to the east. Of the 19 stops, 15 would be in Utsunomiya and four in Haga.
The 1 067 mm gauge route, electrified at 750 V DC, would run mostly on segregated track. One depot and four substations are to be built. A fleet of 17 low-floor vehicles is planned. The 30 m long, 2 650 mm wide vehicles would have capacity for 155 passengers and a maximum speed of 70 km/h.
Services would run every 6 min in the peaks and 10 min off-peak. At least two stations would have passing loops allowing express services to overtake stopping services. The end-to-end journey time would be 38 min for express services and 44 min for stopping services.
Opening is planned for December 2019. The ¥45·8bn project cost is being financed by Utsunomiya (40·8%), Haga (10·2%), Tochigi LRT Holding (22·8%), Kanto Auto Works (10%), Tochigi and Ashikaga banks (10%), Tobu Railway Co (4%), and the Utsunomiya and Haba chambers of commerce (1·2%).