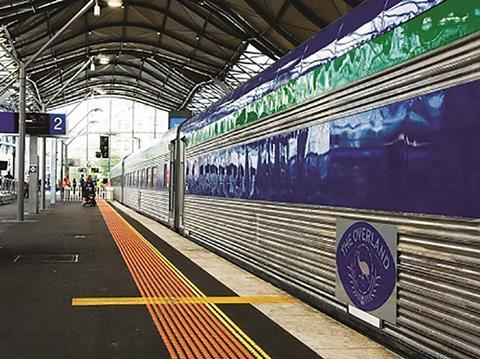 AUSTRALIA: The government of Victoria is to increase its financial support for The Overland passenger service between Melbourne and Adelaide to ensure that it can continue to run until the end of 2019. Operator Great Southern Rail is also to undertake a full review of the service in early 2019 to explore options for its long-term sustainability.
The twice-weekly service taking around 10½ h to cover the 828 km route is the successor to the Intercolonial Express introduced in 1887. It has been operated by Great Southern Rail since 1997, and supported by the state governments of Victoria and South Australia since 2000.
However, the train's future was put in doubt after South Australia announced in November that it would stop providing its A$330 000 annual contribution, citing low passenger levels and the availability of alternative transport options for regional communities. Victoria has now agreed to provide another A$200 000, taking its support for next year to A$3·78m, while Great Southern Rail is to absorb A$130 000 in operating costs.
'We've stepped in because The Overland provides an important connection to South Australia and for people in Western Victoria, and because it's an Australian rail treasure', said the state's Minister for Public Transport, Melissa Horne, on December 11. 'Communities from across western Victoria have told us how important this route is for their travel and to the history of their town – that's why we're continuing our support for this historic service.'