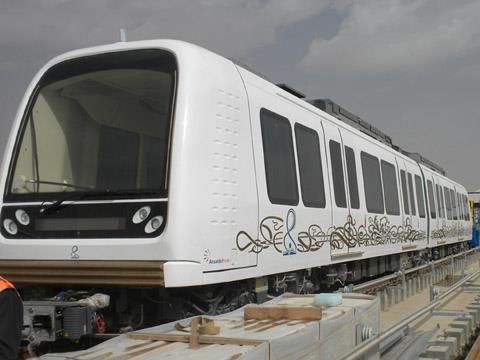 SAUDI ARABIA: King Abdullah rode on the recently completed driverless metro during his inauguration of the Princess Nora Bint Abdul Rahman University campus in Riyadh on May 15.
As well as being the largest women-only university in the world, PNU is said to be the largest single-site university. Transport within the campus will be provided by an 11·5 km light metro, with a total of 14 stations on a main loop plus two branches.
Local customs prevent women from being employed as drivers or female students being exposed to male drivers, and so automatic operation was required.
Once in service, the 22 two-car AnsaldoBreda trains will run at up to 60 km/h, with headways down to 90 sec and a capacity of 4 400 passengers/hour/direction. Travel will be free, although a ticketing system will be in use to monitor ridership.
In June 2009 general contractor Saudi Binladin Group awarded the €218m metro contract to a consortium of Ansaldo STS and AnsaldoBreda, which has supplied the technology used on the København and future Brescia metros. Platform doors were provided by Faiveley.
Construction was unusual in that cost was effectively no object, as long as a two-year deadline for completion was met; 75 000 workers were on the university site at one point and floodlighting was used to accelerate the growth of lawns.
The metro progressed from nothing to the delivery of the first train in just one year, an exceptionally short timescale which demanded careful project management and scheduling to ensure that elements such as substations were available in the right order.
Local subcontractors had little railway experience and so required careful supervision. 'We needed to explain to contractors that "here" means "here", not a metre away', a project insider told Railway Gazette International.