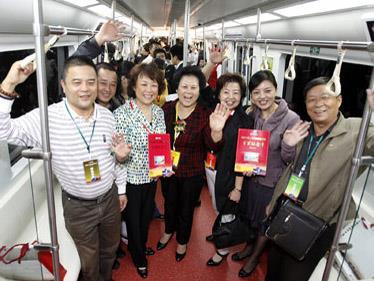 CHINA: The first of three metro lines under construction in Xi'an was officially opened at midday on September 16, with large crowds turning out to take a ride.
Designated Line 2, the 20·5 km line runs south from the North railway station to Qujiang International Conference & Exhibition Centre, serving 17 stations. There is a fleet of 14 trainsets, with services operating at 9½ min headways from 06.30 to 21.30.
Construction began in September 2006 and has cost 10bn yuan. The tunnels were bored by TBMs from Chengdu CSR Tunnel Equipment, and are located at a depth of 12 m to 20 m to protect monuments including the city's historic bell tower and walls. Styling of the trains and stations draws on inspiration from the Qin, Han and Tang dynasties when Xi'an was the capital city.
A 5·8 km southern extension of Line 2 with four more stations is under construction. The 32 km east - west Line 1 is scheduled to open in stages in 2013-16, and work on the 50·5 km Line 3 began in May with opening scheduled for the end of 2015. A six line network totalling 200 km is planned by 2018.