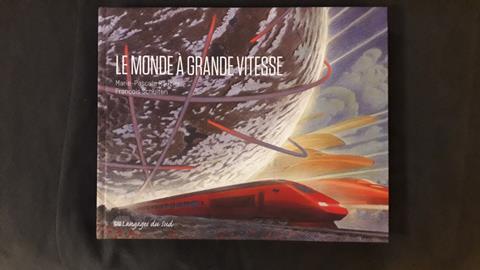 Launched at the headquarters of the International Union of Railways in Paris, this book on high speed railways by Marie-Pascale Rauzier and François Schuiten has been prepared by Casablanca-based publisher Langages du Sud.
In 232 pages it describes 21 high speed rail routes, starting with Tokyo – Osaka and finishing with Tanger – Casablanca. Among other routes are Moscow – St Petersburg, Boston – Washington, Seoul – Busan and Lanzhou – Urumqi.
The content is largely descriptive, reflecting Rauzier's expertise as a travel writer. There is also historical, societal, cultural and technical information supported by numerous photographs, including the architecture of high speed stations across the world. A lavish selection of photographs is complemented by a series of stylised images evoking different facets of high speed rail travel, drawn by artist Francois Schuiten who designed the Train World museum in Brussels which opened in 2015.
During a round table discussion at the book launch, led by former UIC Director General Jean-Pierre Loubinoux, Director General of Moroccan National Railways Mohamed Khlie reported that in the first year of high speed services between Tanger and Casablanca – the anniversary of opening falling on November 15 – traffic had risen by 35%.
The book is available in French or English and is offered with access to a digital archive of information complementing that available in the text.
ISBN 978-9954-695-52-4
Websites
We are not responsible for the content of external sites