The Thai government has committed to spending no less than 7% of GDP on improving its rail network. While double-tracking several main lines is the priority, construction of new lines is still on the agenda. However, the influence of China is a complicating factor. Peter Janssen reports.
After taking power in a military coup in 2014, the first administration led by Prime Minister Prayuth Chan-o-cha made rail investment a clear priority. During his first five years in power, Prayuth approved capital expenditure covering 1 700 route-km, partly comprising double-tracking of the existing main line network but also including construction of new conventional railways, six urban rail lines in Bangkok and advancing the planning of two high speed lines.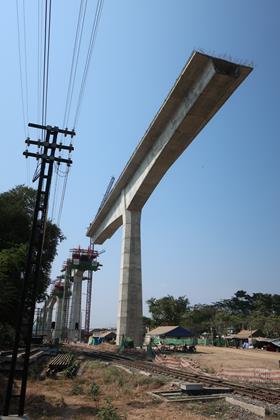 Over the past six years — with Chan-o-cha leading an elected government since last year — the greatest progress has arguably been made in the double-tracking element of the programme. State Railway of Thailand operates a metre-gauge network totalling just over 4 000 route-km, but in recent years the state railway has struggled to retain traffic as both passenger and freight business has been lost to road. With much of its network characterised by low speeds and a lack of capacity, SRT has struggled to respond. 'Just 20 years ago we had 68 million passengers a year, but last year we had about 29 million', reports Sorapong Paitoonphong, Director-General at the government's Department of Rail Transport.
'At that time, double track accounted for only 9% of SRT's network, mostly around Bangkok. Double track and triple track were only 358 km. So that is why our first idea was to increase this proportion', he adds. Under Chan-o-cha's leadership, 'the government is investing about US$35bn in rail infrastructure, or about 7% of the total GDP of the country.' To support this level of spending, the government established DRT to replace the former Office of Transport Policy & Planning.
Double-tracking progress
While some piecemeal double-tracking had been undertaken by previous governments, the work gained added momentum in early 2018 when seven packages were approved totalling 993 km, worth approximately US$4bn. Three of these have already been completed: Nakhon Ratchasima – Khon Kaen, Kaeng Khoi – Chachoengsao/Laem Chabang, and Lop Buri – Phaknampho. Work is underway on the rest, covering routes between Kaeng Koi and Nakorn Ratchasima, Nakhon Pathom, Hua Hin and Khiri Khan, and between Khiri Khan and Chumphon. Besides the physical work, SRT has also stipulated that these routes be equipped with ETCS Level 1 to provide automatic train protection.
Freight traffic underpinned the business case for this initial programme of double-tracking, enabling a high capacity corridor to be created between northeastern Thailand and Laem Chabang port on the country's eastern seaboard. This would act as a conduit for agricultural export crops including rice, sugar cane and cassava.
'The whole corridor should be finished in four years', predicts Voravuth Mala, Acting Governor of SRT. A particular challenge has been the route between Kaeng Khoi and Nakhon Ratchasima, as the existing line passes through hilly terrain featuring severe gradients. As a result, substantial reconstruction of the alignment is being undertaken to reduce the gradients and raise commercial speeds to at least 100 km/h; several new tunnels are being excavated and approach routes rebuilt.
Next phase
Tenders for the second phase of the double-tracking programme are expected to be called later this year. Seven packages are due to be tendered, covering 1 483 route-km. The priority is the 167 km Khon Kaen – Nong Khai main line, which provides a connection with the short cross-border stub to Tha Na Laeng in Laos. Other planned work in the north of the country includes the 285 km Nakhon Sawan – Den Chai line, while in the south of the country, the 168 km between Chumphon and Surat Thani is to be doubled in order to increase capacity on a busy tourist route; Surat Thani is the interchange for ferry links to the island of Koh Samui.
This second phase of the double-tracking programme should complete a high capacity corridor running from the border with Laos to the port at Laem Chabang, offering significant potential for modal shift. Laos currently trucks much of its exports, including silver and copper, along Thai roads to Laem Chabang, paying some of the highest transport costs in the region.
That said, a double-track metre gauge corridor is unlikely to provide enough capacity to handle large amounts of transit freight. 'The volume of freight from Laos to Laem Chabang is already enough to justify the investment in double-tracking', says Surapong. 'We didn't even think about freight from southern China.'
Article continues below ↓
Slow progress on SRT reform
Reform of State Railway of Thailand remains a prerequisite to ensure it is able to manage the myriad rail investment schemes now underway across the country.
SRT is still one of the most heavily indebted state enterprises in Thailand, to the tune of between US$3bn and US$4bn. The railway has a two-stage business plan to return to financial sustainability. The first element hinges on completion of the double-tracking programme which should enable it to launch an effective commuter service radiating from Bangkok. 'Before this we could not think about marketing because we did not have the dual track', says Acting Governor Voravuth Mala. 'Now, even with the first phase we are reducing the journey time by one to two hours and punctuality will be increased.'
The second element involves establishing a separate property company to develop some of its extensive land holdings, such as the land around Bang Sue station, where a future logistics hub is planned and where the railway's new headquarters is expected to open by the end of this year.
The proposal to set up a property arm within SRT is not new, having been approved in principle by the previous government, but the final go-ahead awaits the sign-off by current Transport Minister Saksayam Chidchob. The success of the new property firm will largely depend on its ability to recruit property specialists from outside SRT. 'We need some people who understand property development', Voravuth explains. 'We need outsiders. It will depend on the newcomers, the new staff.'
Links to Laos and China
Nevertheless, rail connectivity with China is clearly rising up policymakers' agenda, because of the construction of a Chinese-backed railway through Laos from Yunnan province in the north to Vientiane. This 414 km standard gauge railway is intended as a mixed traffic line for use at up to 160 km/h; construction is already well in hand and is scheduled for completion in December, 2021. But even if SRT can complete a double-track corridor to the border at Tha Na Laeng by then, there would still be a lack of connectivity between the three countries.
'There is still a 16 km missing link between Vientiane and the SRT railhead which no one is investing in', says Sorapong. The Thai government has provided US$29m in funding to build a metre-gauge connection to the Lao capital. This is expected to be completed by the end of 2023, but even then there would be no direct connection to the Kunming – Vientiane line, even if the break of gauge can be overcome.
As a result, there are tripartite talks underway between the three states about how to handle freight. 'We have met with Laos and China to talk about the transfer of freight', Sorapong reports. 'On the Thai side we would like to have the transfer in Nong Khai. But the Chinese and Lao representatives would prefer Tha Na Laeng. So we agreed to have transhipment facilities on both sides of the border. It will be up to the customer.' However, any final decision on customs processes will need to await completion of a link between the Chinese railway and SRT's network.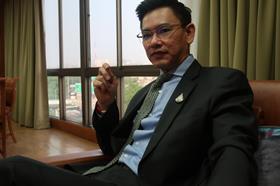 'The government is investing about US$35bn in rail infrastructure, or about 7% of the total GDP of the country'

Sorapong Paitoonphong, Director-General, Department of Rail Transport
New conventional lines
Looking to network expansion, the government also approved the construction of two new lines in early 2019. These will add 678 km to the conventional network, and bring rail services to a further nine provinces.
The two new routes are both in the north of the country: a Ban Phai – Mukdahan – Nakhon Phanom line, and a Den Chai – Chiang Rai – Chiang Khong corridor which could in the future be extended towards Laos.
Tendering has yet to start for these schemes, and procurement is likely to be complicated by the need to acquire land for the new alignments, which is usually a lengthy process in Thailand.
Article continues below ↓
Belt and Road Initiative
Understandably, plans for the development of a network of 'high speed' lines connecting Thailand with neighbouring countries have grabbed the headlines over the past decade or more. At one point, multiple routes radiating from Bangkok were proposed with either Chinese or Japanese backing, all intended for use at 250 km/h or more and all built to 1 435 mm gauge.
But these proposals have ebbed and flowed amid political change in the country, and today the one remaining definitive plan envisages a fast passenger line linking Bangkok with the standard gauge line from Kunming through Laos.
The relative lack of progress over recent years can be explained by 'politics', says Voravuth. 'This is about bilateral relations and they (China) are very big.' Beijing now considers the Bangkok – Nong Khai fast line as part of its geopolitical Belt & Road Initiative, complementing the US$6bn railway through Laos. There are even suggestions that the architects of BRI in Beijing would be keen to realise the long-proposed trans-Asian rail corridor by backing a standard gauge fast route southwards from Bangkok to Malaysia and Singapore.
However, Thai policymakers remain unconvinced of the scheme's commercial merits. In 2017, the Thai government agreed in principle to go ahead with the first phase, building a 253 km link between Bangkok and Nakhon Ratchasima. In part this would follow the alignment of the existing SRT line, where double-tracking work is already underway. In addition, a motorway is under construction between Kaeng Khoi and Nakhon Ratchasima, further complicating the business case.
Chinese officials had sought to address this issue by suggesting the new line be used for freight too, as with the trans-Laos railway. However, SRT and Thai officials rejected the idea, preferring to focus on developing a high speed passenger proposal. The second phase north from Nakhon Ratchasima to Nong Khai remains at the design stage and it is unclear when or if the government will sign it off.
So far the government has only agreed to start work on an 11 km section of the new line, tendering for which should take place later this year. The work is to be funded by the Thai government, with Chinese involvement limited to the supply of rolling stock and signalling equipment worth US$1·6bn; this is to be financed by a loan from Export-Import Bank of China.
This approach is a reflection of obvious tensions between the two countries. 'At first they insisted that we import the sleepers but we said we have a lot of cement manufacturers in Thailand', Voravuth explains. 'They even wanted us to import ballast.' Under the current plans, the sleepers will be produced domestically.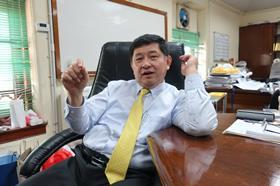 'We are a government agency; the risk that we can bear is already up to the limit'

Voravuth Mala, Acting Governor, SRT
Three Airports complexity
While a number of new line schemes have come and gone over recent years, the planned Three Airports Link between U-Tapao airport in Rayong province and Don Muang north of Bangkok via Suvarnabhumi has made rapid progress since first being proposed in mid-2018 (RG 9.18 p111). The US$6·8bn scheme is intended to support an array of regeneration efforts in the so-called Eastern Economic Corridor, comprising Chachoengsao, Chon Buri and Rayong provinces.
Contracts for construction of the 220 km railway, which incorporates the existing rail link between central Bangkok and Suvarnabhumi, were developed under a PPP model and signed on October 24 last year. The bidder selected to work with SRT was a consortium led by the Charoen Pokphand Group, an agro-industry giant. CP's partners include China Railway Construction Corp, Bangkok Expressway & Metro, Ch Karnchang and Italian-Thai Development; these members are expected to handle the technical aspects of the agreement, while CP itself is expected to concentrate on the property-related developments along the route.
Several months of contractual wrangling has followed since the October announcement, mostly centred on the terms of risk transfer to the private partners.
'CP claims that they are taking more risks than us, but I said we are a government agency; the risk that we can bear is already up to the limit', argues Voravuth. SRT is expected to hand over 1 600 ha to the CP-led consortium, and the timing of this transfer is seen as a particular sticking point.
'From Suvarnabhumi to U-Tapao is the most critical in terms of time because we have two years to hand the land over, and the length is greatest at 125 km', Voravuth reports. 'We already have the alignment finalised but what we worry about is the depots and the new stations in Chachoengsao province, which will require royal decrees to buy the land.'
There are also concerns about the prospects for developing a new 1 435 mm line from the hub station at Phaya Thai north to Don Muang airport, since this would pass through some of the most congested districts of the city. 'According to the contract we have to hand over the land in four years, but we will have a lot of problems…everybody knows', Voravuth admits. Under the terms of the PPP, SRT is also due to transfer operation of the current Suvarnabhumi Express shuttle service to the CP consortium. This is expected by the end of 2024.