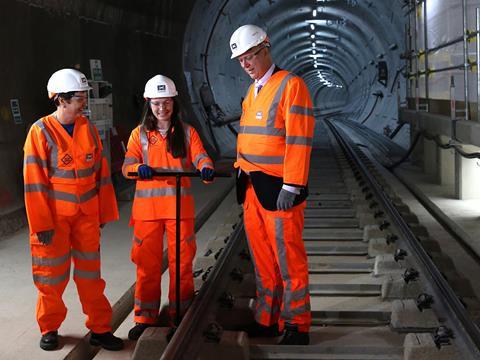 UK: A ceremony at Whitechapel station on September 14 marked the completion of tracklaying on the central core of the Crossrail Elizabeth Line route across central London.
'It's a huge moment in the project, turning it from a construction project into a railway, with around 15 months until our customers ride the first trains beneath the streets of London', said TfL Crossrail Operations Director Howard Smith.
Five types of track have been installed, 80% or 41·2 km being Crossrail standard slab track. Direct fixed track has been laid over 2·7 km in the Connaught Tunnel between the Royal Albert and Royal Victoria docks, comprehensively refurbished for the project, while high-attenuation sleepers have been used to further reduce noise and vibration on 3·2 km west of Paddington and east of Tottenham Court Road.
Also to attenuate noise and vibration, a light floating track slab has been laid over 2·1 km in the Soho area between Bond Street and Tottenham Court Road. A heavy floating track slab has been installed on 1·4 km between Farringdon and Liverpool Street, intended to ensure that plays and concerts at the Barbican Centre are not disturbed by Elizabeth Line operations.
With construction trains having been able to operate along the full length of the core tunnels between Plumstead and Royal Oak for the first time this summer, fit-out work is now focused on signalling, ventilation, communications and the overhead power supply. Work also continues to install platform screen doors at the nine stations on the central core.