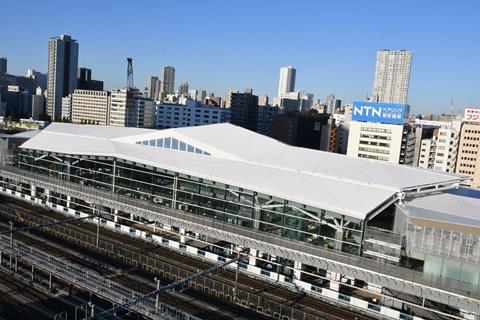 JAPAN: East Japan Railway successfully completed a realignment of its Yamanote and Keihin-Tohoku suburban lines in central Tokyo with a rare blockade over the weekend of November 16-17.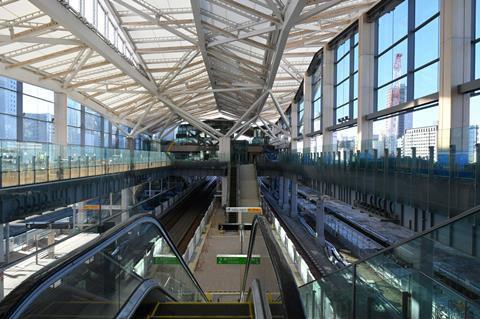 The realignment forms part of the project to build a new station at Takanawa Gateway, between Shinagawa and Tamachi. Under a project launched in 2014, the 1 067 mm gauge tracks have been moved eastwards by around 100 m to free up former railway land for redevelopment.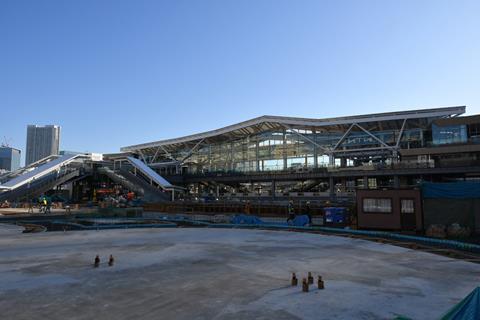 The station has been built on the site of a former locomotive and carriage depot between the old main line and the later Tokaido Shinkansen alignment. It has two island platforms, one for each line. Following the end of operations on November 15, around 2 000 staff moved in to disconnect the four existing tracks and slew the lines over to connect with the new station tracks. Such was the rate of progress that Yamanote Loop services were able to resume around 16.00 on November 16, although the less-busy Keihin-Tohoku Line did not reopen until the following day.
Designed by the famous Japanese architect Kengo Kuma, who is also designing the new Tokyo Olympic Stadium, the four-storey station building containing a range of shops and restaurants follows the 'eki naka' style, featuring a sleek origami-inspired shape.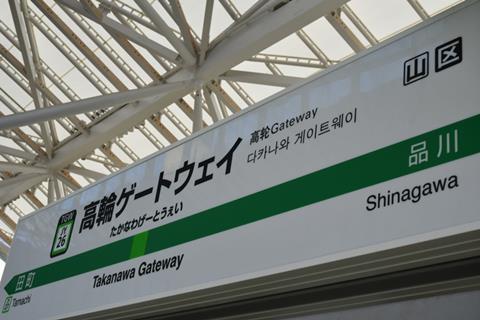 Providing an interchange between the JR East suburban network and Toei's Asakusa Line at Sengakuji, which is also served by the private Keikyu Railway, Takanawa Gateway station is expected to open on a temporary basis next year when Tokyo hosts the summer Olympic and Paralympic Games. However, it is not expected to come into full use until Phase I of the project is finished in 2024. JR East currently expects to complete Phase 6 of the redevelopment after 2030.
Read more about Tokyo's Olympic preparations in the December 2019 issue of Railway Gazette International magazine.