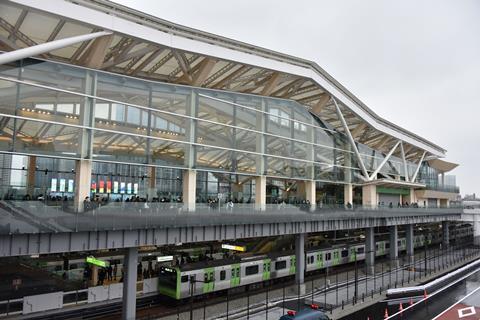 JAPAN: East Japan Railway opened its Takanawa Gateway suburban station in Tokyo for revenue service on March 14.
Although a planned inauguration ceremony was cancelled in the light of the coronavirus outbreak, around 350 people had gathered by the time the station opened at 04.15, ready for the first train 20 min later. A public celebration scheduled for March 19 has also been postponed.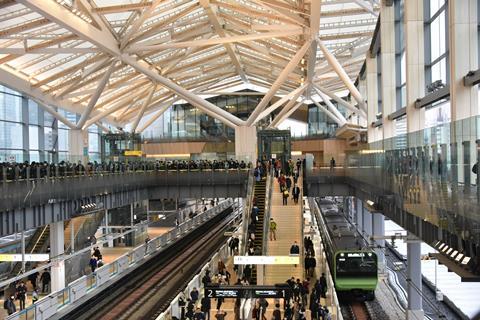 Located between Shinagawa and Tamachi, the station is served by the Yamanote and Keihin-Tohoku lines, each of which has its own island platform. It is the 30th station on the capital's busy Yamanote Loop, and the first to open since Nishi-Nippori in 1971.
The station has been built as part of JR East's Shinagawa Redevelopment Project, which envisages the redevelopment of former railway yards in Minato ward as a global business hub just south of the city centre. The operator envisages that the station will initially be used by 23 000 passengers/day, increasing to 123 000 by 2024 as the commercial and residential developments are completed.
Designed by Japanese architect Kengo Kuma, Takanawa Gateway station features cedar clad walls and huge glass windows providing dramatic views of the city. It is equipped with robots for cleaning as well as providing security surveillance and customer information services. Another innovation within the station complex is an automated convenience store with self check-out, remote scanning and automated payment, which is expected to open on March 23.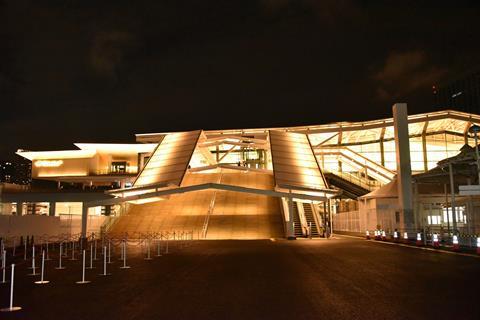 Although the first residential and office blocks in the new development will not be ready for some time, JR East decided to pull forward the opening of the station to boost capacity during the 2020 Olympic Games which are due to take place in Tokyo. 'We hope to provide services that go a step ahead and create a station that is loved by everyone', Stationmaster Taka Nakamura told local media. 'It is a lovely station, so we hope visitors will come frequently.'