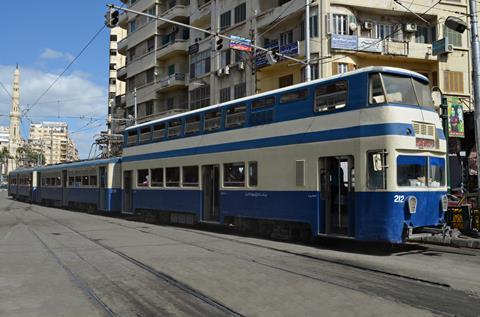 EGYPT: A consortium of Systra, Egis, ACE and Projacs is to provide design and supervision services for the rehabilitation of the Alexandria tramway's Raml Line, under a contract awarded by the National Authority for Tunnels which is responsible for urban rail projects.
Systra said the project would 'transform' the Raml Line, with the introduction of modern and efficient infrastructure and rolling stock. The aim is to cut the journey time between the termini at Ramleh and El Nasr (Victoria) by a half, triple capacity and offer greater passenger comfort to encourage modal shift and help reduce car traffic.
Plans include the provision of footbridges, electronic signalling and the complete renewal of the rolling stock fleet. A branch is to be removed, and some stops are to be relocated to make the services more fluid.
The Systra-led consortium is produce designs, prepare and evaluate tender documents and supervise the works until the end of the guarantee period. The design phase is scheduled to run for 10 months, followed by an implementation phase of at least 24 months.
Egis is in charge of design management, integration and interface management; it will design and supervise implementation of the telecoms, operations control centre, automatic fare collection, overhead electrification and traction power supply. Egis expects its teams to be deployed on the project for at least five years.
The Alexandria tramway traces its history back to 1863, and was modernised in the 1960s. Along with Hong Kong and Blackpool, it is one of the few remaining tramways to operate double-deck trams in regular service.