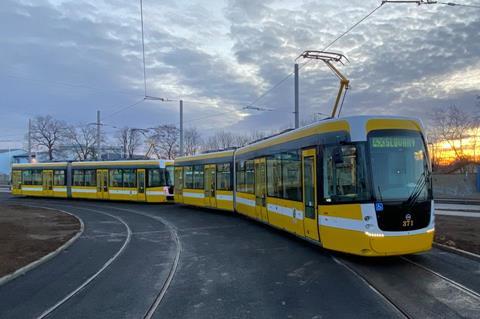 CZECH REPUBLIC: Plzeň city transport authority PMDP has ordered another five Type EVO2 trams from Krnovské Opravny a Strojírny for delivery by the end of the year
The order confirmed on April 24 has been placed within a KC524m framework contract for up to 16 trams which was signed in November 2017. Nine have already been delivered and are in use on Route 1 from Slovany to Bolevec, where they have replaced older Škoda-built 03T Astra trams.
On the same day Brno transport authority DPMB put into revenue service the first two EVO2 trams delivered under a KC1·3bn framework agreement for up to 41 which was signed in September 2018.
The trams are being assembled at DPMB's own workshops at Medlánky, with bodyshells, bogies and assembly tools supplied by KOS in kit form.
The first air-conditioned trams in the city are mostly being used on routes 4 and 10, replacing ČKD-built Type K2 vehicles. The whole fleet is due for delivery by the end of 2024.
KOS is a member of the Alliance TW Team along with Pragoimex and VKV Praha. It has also produced one EVO2 tram for Liberec in 2012 and three for Most-Litvínov in 2019-20. The 100% low-floor 21·9 m long two-section design has a capacity of 170 passengers, of which 50 seated, and maximum speed is 70 km/h.