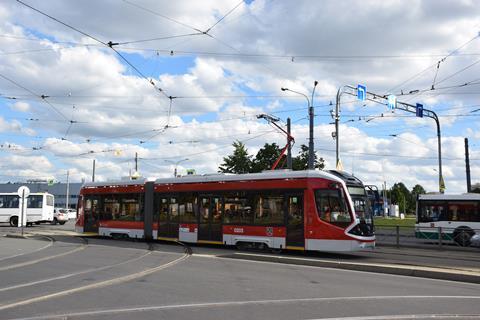 RUSSIA: St Petersburg transport operator Gorelektrotrans has awarded PK TS a 6·9bn rouble contract to supply a total of 57 trams.
The order announced on February 8 includes three three-section, 27·5 m long 71-931M Vityaz-M trams with a capacity of 188 passengers, and 54 two-section, 19·4 m long 71-923M Bogatyr-M trams with a capacity of 138 passengers.
PK TS was the sole bidder for the contract.
The unit cost per vehicle will be around 148m roubles for the Vityaz-M and 120m roubles for the Bogatyr-M, significantly higher than previous prices charged for similar vehicles; this is thought to be related to recent dramatic rises in the prices of metals and components.
All of the trams will be fitted with an autonomous driving system which would enable them to operate without a driver on board, potentially for depot use.
The first six trams are expected to be delivered by late May, with the entire order to be fulfilled by the end of November 2023.