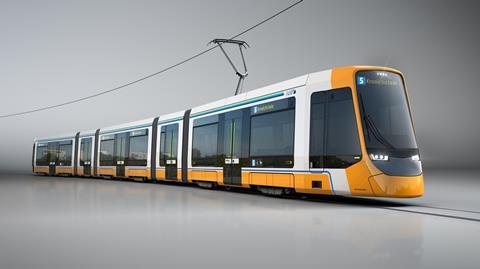 GERMANY: Stadler has won the first order for its next generation of trams, with a €62m deal to supply 14 vehicles to Darmstadt operator HEAG Mobilo.
The trams will feature a driver assistance system with traffic sign recognition, a new design of bogie to optimise the use of space and improve maintainability, and an air- conditioning system which will use CO2 as the refrigerant to offer better environmental performance than conventional refrigerants.
The low-floor vehicles will provide unrestricted access to all seats from every door, with the large windows giving passengers with clear views and, together with the high ceilings, a feeling of spaciousness.
Designated Type ST15, the five-section unidirectional trams for Darmstadt will be 43 m long with 103 seats and a total capacity of 284 passengers. Entry into service is planned from mid-2022 to October 2024; 10 trams will replace a similar number of 30-year old ST12 high-floor vehicles, and the other four will expand the fleet. The contract includes options for up to 30 more vehicles.
'It makes us proud to have placed our new and highly innovative tram model in Darmstadt within such a short time', said Christoph Klaes, Stadler's Head of LRV Sales, when the order was announced on January 6.
Stadler will present details of its new tram concept at the InnoTrans 2020 trade fair in Berlin during September.