With the imminent completion of a corridor able to carry 4 m high lorries on trains through Switzerland, the Swiss government has outlined measures to ensure that transit freight continues to switch from road to rail, but operators believe that these will not suffice. MurrayHughes investigates.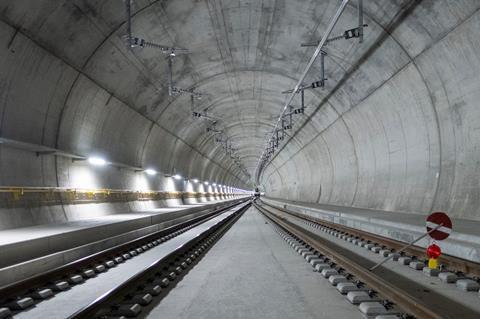 September 4 2020 has been set as the date for the formal inauguration of the Ceneri Base Tunnel. Opening of the two 15∙4 km single track bores will mark the effective completion of Switzerland's ambitious AlpTransit project, providing a low-level route through the Swiss Alps for transit freight, including the ability to carry 4 m high semitrailers on intermodal trains.
Switzerland embarked on AlpTransit in 1992 when a referendum cleared the way for funding of the Lötschberg and Gotthard base tunnels and related works. The main objective was to reduce the number of heavy lorries driving through the sensitive Alpine environment, so cutting harmful exhaust emissions. A target of no more than 650 000 lorries a year transiting Switzerland by 2018 was duly enshrined in law, but as time passed it became clear that the limit would be exceeded.
Achieving a corridor able to accept 4 m high lorries on trains was no simple matter. Although the Lötschberg Base Tunnel opened in 2007, followed by the Gotthard Base Tunnel in 2016, the Ceneri Base Tunnel and loading gauge enhancements on the rest of the transit corridor were still outstanding.
Yet some progress was being made. From a peak of 1·4 million in 2000, the number of transit lorries in 2015 was down to 1·01 million. By 2017 the figure had fallen to 954 000, dropping again in 2018 to 941 000, but still far above the target. Rail's share in recent years has been about 70%, far higher than the 28% in Austria and just 14% in France.
In its 2019 biannual report on modal shift for transit freight, the Federal Office for Transport calculated that, even with full availability of the 4 m corridor, the target figure would not have been reached by 2018, despite a package of incentives to encourage modal shift. These included levying a fee on transiting lorries to help pay for the base tunnels, plus financial support for unaccompanied intermodal services. BAV nevertheless asserts that its policies have prevented an additional 800 000 lorries a year from being driven over the Alpine passes.
Approach route upgrades
Another obstacle to achieving the AlpTransit objective has been the inability of the German and Italian governments to progress upgrades on the approach routes to match the capacity of the Swiss transit corridor. Work still required includes installation of ETCS and other measures to comply with interoperability requirements. Similar considerations apply to the Brenner corridor in Austria (Brenner Base Tunnel passes the halfway mark), where plans to upgrade both northern and southern approaches lag far behind the construction of the Brenner Base Tunnel.
In an attempt to bring the number of transit lorries closer to the target, the Swiss government now proposes further incentives to divert shipments to rail and to ensure that paths are used effectively, for example by operating longer trains. Measures include a cut in track access fees from January 2021, adjustments to the lorry transit fee tariff for certain vehicle categories, and intensified lorry inspections at a check point to be established at Giornico, well to the south of the Gotthard motorway tunnel.
A subsidy for operation of unaccompanied intermodal services will continue until 2026, and the government will review its policy on rolling motorway trains to determine if these should also continue to receive financial support beyond 2023.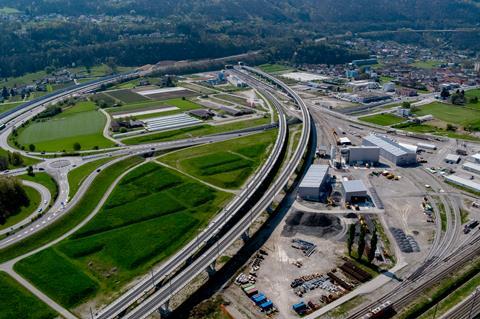 Operators react
In a joint statement issued on December 18, six organisations including SBB Cargo International, BLS Cargo, Hupac and road transport association Astag asserted that the measures proposed by the Swiss government fell far short of what was needed. They pointed out that the promised upgrade of the international freight corridor between Germany and Italy 'is delayed by at least a decade', meaning that the hoped-for rise in productivity in the use of locomotives, wagons and crews for international intermodal transport was only half what was originally envisaged.
The group highlighted four factors that have held back progress:
failure to upgrade the approach routes means it is impossible to operate 740 m long freight trains, length currently being limited to 690 m;
journey times are longer than necessary because of frequent engineering work, which is not co-ordinated at an international level;
cross-border train paths are not co-ordinated — a point highlighted by UIC Director General François Davenne last month ('A brilliant future as the backbone of mobility') — meaning that time is wasted at border crossings as trains wait for paths;
gradients on the transit corridor and 'the operating concept of the Gotthard Base Tunnel' mean that a second locomotive is still needed for 2 000 tonne trains; southbound trains with one loco are limited to 1 300 or 1 700 tonnes and northbound trains to 1 000 or 1 300 tonnes.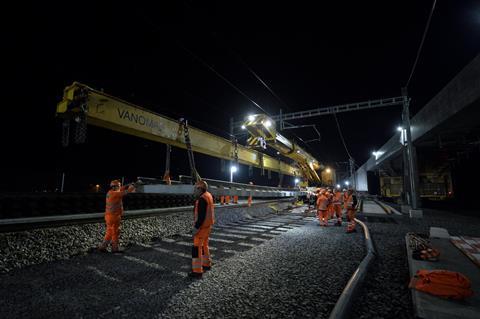 More measures
To ensure that the positive results achieved to date are not jeopardised, and to guarantee further progress, the group proposes some additional measures. First, it calls for 'the payment framework for the promotion of unaccompanied combined transport' through the Alps to continue until 2030 as no productivity improvements can be expected before then. It believes that this longer commitment would 'create the necessary investment security', allowing companies to invest in containers, craneable trailers, motive power, wagons and terminals.
The group also highlights the damaging effects of engineering work along the transit corridor which is partly needed to achieve 4 m high clearances. This has been one of the main reasons for a marked deterioration in freight train punctuality, the companies say. Whereas in 2009 around 75% of trains arrived at their destination less than 1 h late, a decade later the figure had fallen to 55%. Worse, in 2019 12% of trains were more than 12 h late.
Second, the group of operators and associations also wants the SFr55m/year operating subsidy for unaccompanied intermodal services to continue beyond 2024 to 2030. It argues that the unit subsidy would effectively fall as more traffic is switched to rail — whereas in 2011 the support equated to SFr173 per lorry, it was down to SFr116 in 2018 and could drop further to SFr40 or SFr45 by 2030.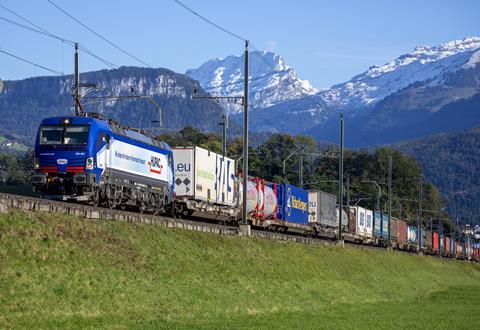 Alternative routes
The third recommendation relates to the lack of alternative routes to the north of the Swiss transit corridor. This was highlighted spectacularly in 2017 when the double track main line north from Basel along the Rhein valley towards Karlsruhe was interrupted by the collapse of a tunnel under construction at Rastatt, ironically as part of a quadrupling scheme. To the south there is less of a problem as diversionary routes are available via Luino and Domodossola if the main line through Chiasso is disrupted.
The group's proposal is to develop a route along the left bank of the Rhein through France into Belgium, currently the biggest source and destination for intermodal traffic passing through Switzerland. There are no steep grades, but the route is not currently fit for 4 m high lorries, does not have ETCS and cannot accept 740 m long trains. Upgrading would be needed all the way from Basel to Strasbourg and north to Antwerpen and Zeebrugge, while similar work on the link between Strasbourg and Mannheim via Wörth would provide extra flexibility.
The group suggests that 'development of a corridor-compliant alternative route via France is likely to be manageable in terms of costs' and notes that the project would be 'strongly in Switzerland's interest'. However, implementation would require a political initiative by Switzerland to persuade France and Belgium that action was required. If this could be agreed, a formal state treaty on infrastructure development would also be needed. The group has therefore called on the Swiss parliament to initiate discussions.
This article first appeared in the February 2020 issue of Railway Gazette International magazine.