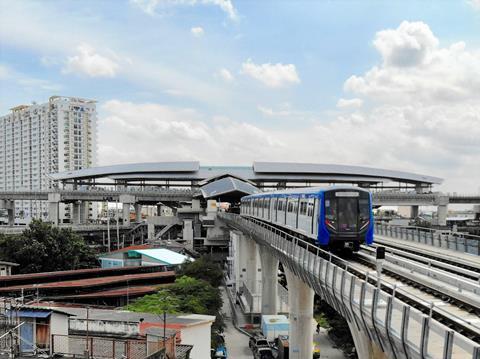 THAILAND: Trial operation has started on a further section of Bangkok's Blue Line, completing the western side of the circular metro route around the city centre.
Transport Minister Saksayam Chidchob joined representatives from the Mass Rapid Transit Authority and operating concessionaire Bangkok Expressway & Metro Plc at a ceremony on December 23 to mark the start of trial running on the 11 km Section 3 of the Blue Line, which is officially designated as the Chaloem Ratchamongkhon MRT.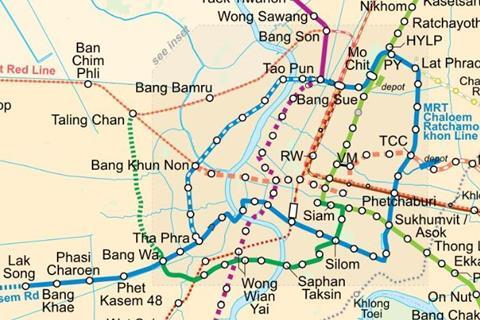 Section 3 serves the Thonburi side of the Chao Phraya river, diverging from the recently opened southwestern leg at Tha Phra and running north to Bang Pho before crossing the river to reach the existing northern terminus at Tao Pun near Bang Sue, where interchange is provided to the Purple Line serving the northwest of the city. It adds a further eight stations, bringing the Blue Line to a total length of 47 km with 38 stations.
During the trial phase, which is expected to last until March 20, BEM will provide free travel on Section 3. The line will be operated as a separate shuttle, with passengers required to change at Tha Pra or Tao Pun to reach the rest of the line.
The Blue Line is officially scheduled for completion by April 2020, but the minister had been pressing MRTA, BEM and contractor CH Karnchang to open the various phases as soon as possible. Trial operation on the 5·4 km southwestern extension from Hua Lamphong to Tha Phra began in July 2019 ahead of full opening on August 13. The Tha Phra − Bang Wa section followed on August 21 and Section 2 was completed when the line reached its current terminus at Lak Song on September 21.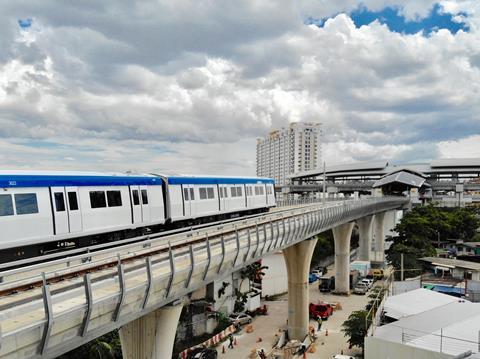 Completion of sections 2 and 3 is expected to boost ridership on the Blue Line from 400 000 to 800 000 passengers/day. As part of a turnkey package including signalling and traction power supplies, Siemens is supplying a further 35 three-car trainsets to operate the extended line, of which 14 entered service with the opening of Section 2. Fare collection equipment for the 19 additional stations is being supplied by Thales under a contract awarded in 2017, which also included upgrades to the equipment supplied for the original line that opened in 2004.