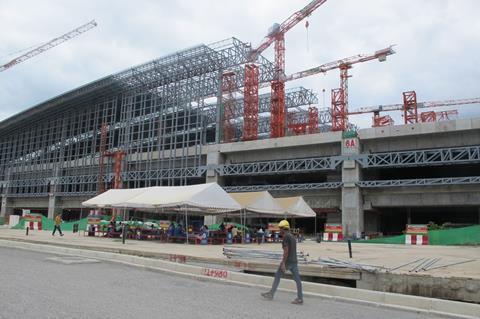 THAILAND: Opening of Bangkok's Bang Sue Grand Station has been delayed until late 2021, with State Railway of Thailand saying this is largely a result of the Covid-19 pandemic which has prevented Japanese contractors from visiting the site for several months.
Under development for several years, the four-storey hub station on the edge of Bangkok's city centre had been scheduled to open last year, served by local commuter lines. The first phase will now be formally inaugurated on November 1 2021, following a period of testing on SRT's Dark Red and Light Red suburban rail routes between July 1 and October 31.
Bang Sue Grand Station will ultimately cover 320 ha, including an adjoining mixed-use development. As well as acting as a commuter rail and metro hub, Bang Sue Grand Station is also envisaged to be the city's main long-distance passenger terminal, replacing Hua Lamphong. It would be used by high speed services on the planned Three Airports route and proposed future routes linking Bangkok with Vientiane and Chiang Mai.
Construction of the station was launched alongside development of the Bang Sue – Rangsit suburban corridor, which received financing from JICA worth US$2∙98bn. Railway systems and fit-out of the station was covered under a package awarded in June 2016 for rolling stock and signalling for the Red Line routes.
The Red Line programme is currently facing a budget shortfall of around US$317m, which the government will need to agree to provide to SRT via domestic loan. The first of 25 Hitachi EMUs to operate the metre-gauge Bang Sue – Rangsit/Taling Chan routes arrived in Thailand from Japan in October last year.