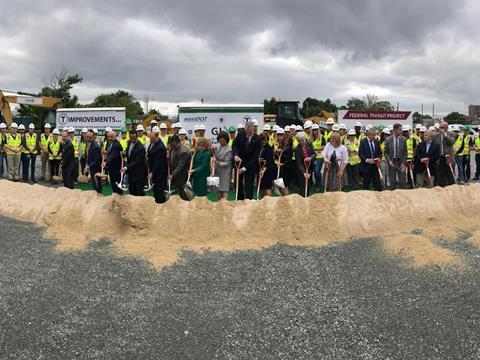 USA: A groundbreaking for Boston's Green Line light rail extension took place on June 25 at the future site of Union Square station in Somerville.
The GLX Constructors joint venture led by Fluor and including Balfour Beatty Infrastructure, Herzog Contracting Group and The Middlesex Corp is undertaking the work under a $1·08bn design-build contract
Two branches totalling 6·9 km are to be built, one running from the relocated Lechmere stop to Union Square and the other from Lechmere to College Avenue station. The will be six new stops and a depot. The project will also require relocating sections of heavy rail routes. Testing is due to begin in late 2020 ahead of the planned opening in late 2021.
The total project cost is $2·3bn, which includes professional services, contingency and rolling stock. In January 2015 the Federal Transit Administration signed a $996m Full Funding Grant Agreement with Massachusetts Bay Transportation Authority, and further funding is coming from the cities of Somerville ($50m) and Cambridge ($25m)
CAF is supplying 24 light rail vehicles as part of the project. The first of these is expected to enter service in late 2018.