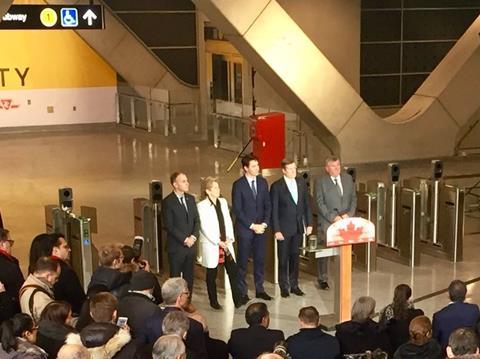 CANADA: A northern extension of Toronto Subway Line 1 into York was inaugurated on December 17, with a day of free travel.
The 8·6 km section from Sheppard West to Vaughan Metropolitan Centre via York University adds six stations and 14 min of journey time to Line 1. It is estimated that the extension will add 36 million passenger-journeys per year, as well as taking 30 million car journeys off the roads. Services on Line 1 run at peak frequencies of 2½ min, and 3 to 5 min off-peak.
The Toronto-York Spadina Subway Extension project cost C$3·2bn, with the province of Ontario contributing C$974m, the city of Toronto C$904m, the federal government up to C$697m and York Region C$604m.
The six new step-free stations are equipped with wi-fi, bicycle parking and ticket gates. They are the first to have Customer Service Agents instead of ticket collector booths; this change is due to be rolled out across the network next year. Single tickets, tokens and Metropasses are not available to buy at these stations, with only PRESTO smart cards available.