Rail Business UK can reveal that the short-notice decision by Transport Secretary Mark Harper to bring TransPennine Express into the government's Operator of Last Resort has stoked serious concerns about unintended consequences within the industry.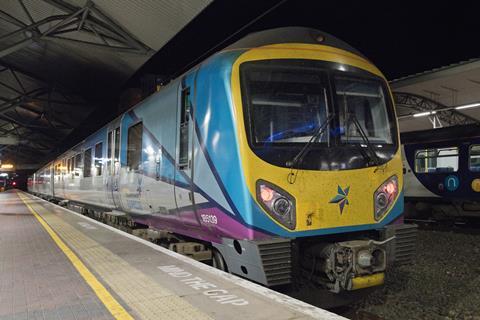 UK: Fears are growing about more disruption to rail services caused by industrial action in the wake of the decision by Transport Secretary Mark Harper to transfer the TransPennine Express business from FirstGroup to the government's Operator of Last Resort. This was formally completed shortly before 02.00 on May 28.
The decision announced on May 11 was ostensibly taken because of the protracted period of disruption to TPE services across northern England in the weeks and months beforehand. In January and February, up to a quarter of TPE trains were cancelled, which was the highest rate of any British train operator.
But an improvement plan agreed with the Department for Transport was starting to show signs of improvements, with one in six services cancelled in March.
Rail Business UK understands that since the start of the recovery programme TPE had consistently achieved targets set by officials at DfT, which closely manages operators through their operating contracts.
FirstGroup had been expecting a short extension its National Rail Contract of around six months, with a number of conditions applied regarding further improvements in service delivery.
DfT officials overruled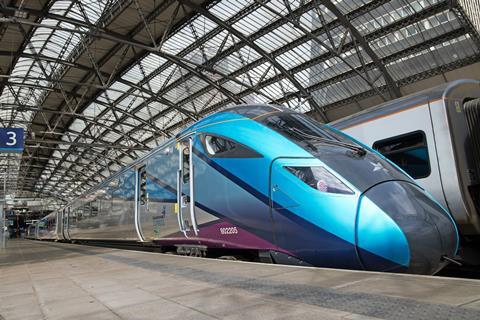 It is understood that in early May, Peter Wilkinson, Managing Director for Passenger Services at DfT, had formally recommended to ministers that such an extension be granted. Both DfT and rail industry leaders had been anticipating this announcement until as late as May 9.
The decision announced on May 11 therefore took DfT by surprise; according to insiders, the department had not been forewarned and had no plans in place for a change of owner at TPE. At the same time, the Chief Executive of in-house operator DfT OLR Holdings Ltd, Robin Gisby, was on a family holiday in France.
According to one source in Whitehall, the advice of DfT was overruled by Harper. 'This appears to be purely a Secretary of State decision, following the [local] election results', they report.
Golton goes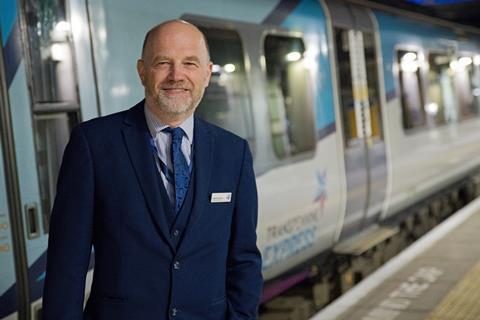 While the decision to transfer TPE to OLR was seemingly unexpected, the subsequent announcement that the operator's Managing Director Matthew Golton would not be moving with TPE to OLR has caused further consternation.
Golton had joined TPE on June 1 2021 as part of FirstGroup's performance improvement initiative, tasked with addressing the consequences of some of the decisions taken by previous managers of the business. Golton is widely regarded as one of the best operators in the rail sector, and his contribution at TPE was viewed by his peers as positive.
Rail Business UK understands that again, the choice to release Golton from TPE was forced on OLR by the Secretary of State against advice from officials, and contrary to the wishes of Wilkinson.
Sources report that the leadership at OLR had also told Harper that Golton was 'part of the solution', and they have praised the way he worked until his final day on May 27 to ensure a smooth transfer of the business.
Union factions 'bring down TPE'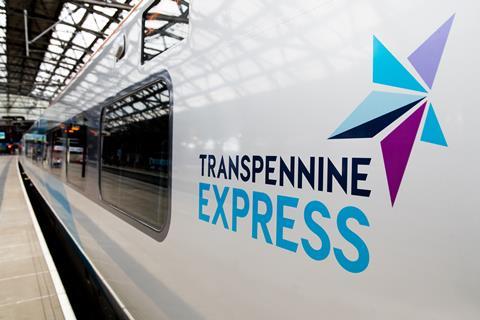 Industry leaders are now worried that the cumulative effect of the TPE crisis, including Harper's call to bring in OLR, has been to hand a major victory to a hard-line faction within the major rail unions, particularly drivers' union ASLEF.
Rail Business UK can report that it has had access to communication from a small cabal of union leaders promising a concerted campaign over several months to 'bring down TPE'. This attitude led to what insiders described as a point-blank refusal to co-operate with the operator, even during the worst days of disruption.
This breakdown in relations led to the withdrawal of the longstanding industry-standard overtime arrangements, which happened at a time of what FirstGroup describes as unprecedented driver training requirements related to diagram changes caused by Network Rail's ongoing Transpennine Route Upgrade works.
'We are extremely disappointed with the outcome of the Secretary of State's decision'
Following the introduction of FirstGroup's recovery plan in February 2023, TPE's cancellation rate fell by approximately 40%. The plan included the recruitment of more drivers, an acceleration of training on revised routes around engineering blockades, and management intervention to ensure rostering was more streamlined and reliable.
Nevertheless, its implementation was still hampered by industrial disputes, in particular the difficulty TPE faced in reaching a revised Rest Day Working agreement with the two main rail unions. DfT itself is reported to have blocked a number of TPE's proposals, principally on cost grounds, although it has refused publicly to acknowledge its involvement in the situation.
Fears over more disruption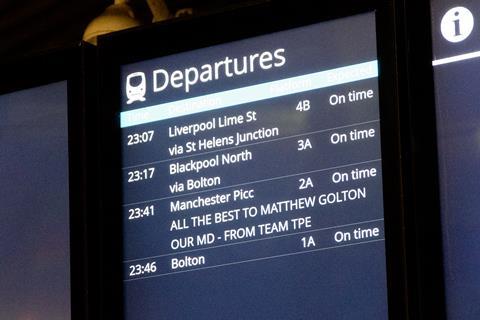 One senior leader at another train operator feels that the 'apparent victory' for the union hard-liners at TPE will embolden them to take a similar approach elsewhere. 'There is a worry about who is the next target', they said.
Meanwhile, FirstGroup is deeply concerned by the fall-out from the TPE situation. 'We are extremely disappointed with the outcome of the Secretary of State's decision', said First Rail Managing Director Steve Montgomery. 'We were delivering as per the action plan, so we are unsure what more we could have done.'
In a formal statement, Montgomery explained that that in 2021, TPE posted its best performance results for a decade, going on to win the Operator Of The Year award at the Railway Gazette Group's 2022 Rail Business Awards.
Senior managers at other owning groups are now understood to be asking if their operating contracts with DfT are secure, even if they meet targets agreed with the government. Most owning companies are struggling with the ongoing industrial relations issues, but they feel that the potential for resolution is largely in the hands of ministers rather than railway managers.
Merriman pushes back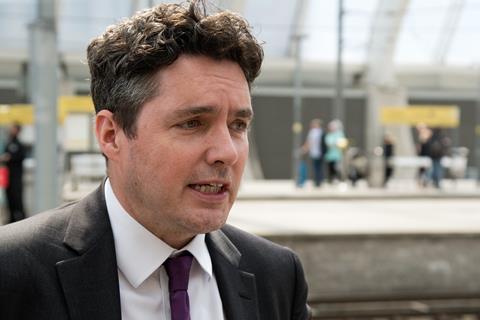 During a visit to Manchester on May 25, Rail Minister Huw Merriman was asked by Rail Business UK about ministers' role in the TPE crisis.
'The reality is the management of TPE could not get a Rest Day Working agreement in place with the unions. It needed a reset and passengers need a decent service', he insisted. Merriman then refused to recognise the improvement being seen at TPE and rejected suggestions that the decision was linked to the local election results.
'I've been looking at the performance of TransPennine Express on a weekly basis since the end of last year, so there's nothing knee jerk about these decisions', he added. 'They're very considered and they're made on balance. We took the decision because we felt that there needed to be a reset where the passengers could see improvement. We've also done that reset in terms of management.
'There's nothing knee jerk about these decisions'
'What we need in terms of material changes [on Rest Day Working] is for the unions to allow the workforce to work as they were doing some years back', he continued. 'If they have their reset moment as we have, then the passenger will see an improvement in performance. That's now down to the unions to decide.'
TPE to get worse before better
To compound matters, there is a consensus within the industry that TPE services could still deteriorate further before they improve.
A major factor here are TUPE employment transfer rules; these allow for continuity of employment on existing terms, but also allow staff to opt to leave a business without notice at the change of employer. Rail Business UK understands that a significant number of drivers have exercised this right, with several leaving on the final day of FirstGroup's contract on May 27. This will exacerbate resourcing issues, given that there is still no Rest Day Working agreement in place.
Merriman anticipated this scenario when he spoke to local media on May 25. 'A new operator can only do so much and we need the unions to play their part start working in the manner they have been previously. If that occurs, then passengers will see a real improvement in the timetable', he said.
Burnham pleased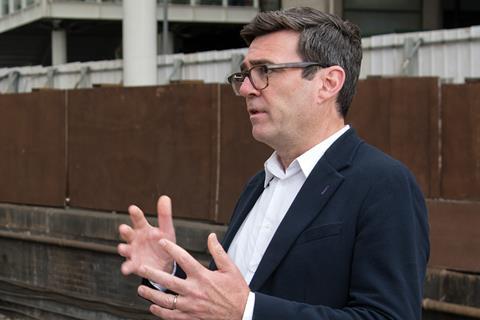 The decision to transfer TPE was welcomed by Greater Manchester Mayor Andy Burnham, despite the risks to performance involved.
'I am pleased that the government listened. New appointments that have been made, I have confidence in the people that are coming in. I believe there's an urgent job to be done to repair the rift between frontline railway staff and the management, and I believe we have opportunity to heal that', he said.
'When Northern went into the Operator of Last Resort, things got slowly better; I hope that will be the case with TPE. I will work with the government to make sure we do bring the different sides back together and we bring the unions in as much as we can, as there is a chance for a fresh start', Burnham explained to Rail Business UK.
External side effects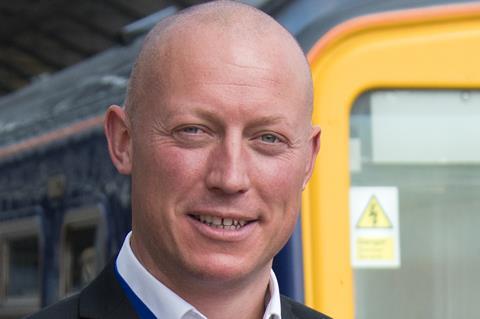 The short notice of the transfer and the departure of Golton mean that a replacement Managing Director has not yet been lined up; a recruitment process is underway. In the meantime, Chris Jackson, previously Regional Director for the West & Central at OLR's Northern Trains, will stand in as acting MD.
The change also means a number of external investment schemes involving TPE will also be delayed as teams involved will no longer exist. This work is believed to include a strategic rolling stock programme, which was looking at options for the TPE fleet following the completion of the Transpennine Route Upgrade. This work is likely to face at least six months' delay, adding further cost to the TRU programme.