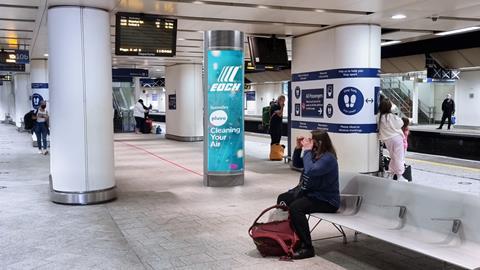 UK: The use of air-purifying totems to reduce the impact of diesel train exhaust fumes on air quality is to be tested at Birmingham New Street station.
The Pluvo Column devices take in air at the bottom of the totem and pass it through a series of filters before releasing it at head height.
'New Street, with its unique air quality challenges, is an ideal trial location', said Pluvo CEO Matteo Maccario.
Network Rail says similar units demonstrated 'promising' improvements on a busy street in London, with a reduction of up to 67% in particulate matter, and 22% in NOx.
Two of the devices will be installed on New Street's platforms 10 and 11 later this year.
They are intended to complement a multi-million-pound investment in the station's overhead ventilation system four years ago.
'As one of the busiest stations in the country, with diesel and electric trains coming or going every 37 sec on average, we know the air quality at platform level could be better', said Patrick Power, Network Rail Central Route's Head of Stations, on August 3.
'These new units show real promise to tackle that and if successful we'd look to roll them out right across the station in future.'