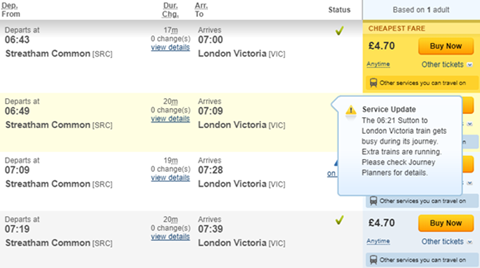 UK: Intending passengers can see how busy a specific train or station is likely to be before leaving home, using technology launched as part of efforts to help people stagger their journeys while social distancing measures remain in place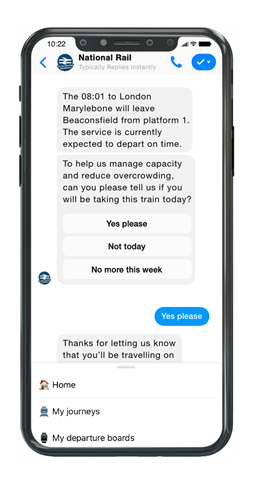 The system developed by Zipabout uses a range of anonymised data, including from journey planners, to compare recent travel with historic trends. Messages about busy trains and stations can also be sent by front-line railway staff to control rooms, and then incorporated within 5 min into a central database for use by National Rail Enquiries and third-party journey planners.
A red or yellow warning triangle is displayed alongside journey planner search results, on which users can click to find more information and advice.
'We're looking forward to quickly refining and accelerating this technology', said Alex Froom, Chief Product Officer at Zipabout. 'By combining our own predictive technology with the additional information that the Rail Delivery Group has enabled, we will be able to support every passenger and operator through these challenging times.'
The system is to be complemented by an information service that will update passengers on how disruption and overcrowding will affect their journey, and provide alternative travel options to help people maintain social distancing. Passengers can sign up to National Rail alerts on Facebook Messenger, with WhatsApp and SMS messaging expected to follow in the coming weeks.
'The eyes and ears of thousands of front-line staff will let us know if stations or trains are getting busy while cutting-edge data analysis will help us predict spikes in demand, giving passengers the advice they need in the palm of their hands', said Robert Nisbet, director of Nations & Regions at RDG. 'While people should only go by train if their journey is really necessary, those who do need to travel should sign up for alerts from National Rail and, before setting off, pop online to check the very latest information and avoid the busiest times.'
Data from Zipabout's Passenger Connect analytics platform suggests there was a 12% increase in passenger intent to travel at major stations in England and Wales over the 20 days from May 15 to June 3 when compared with the previous 20 days.