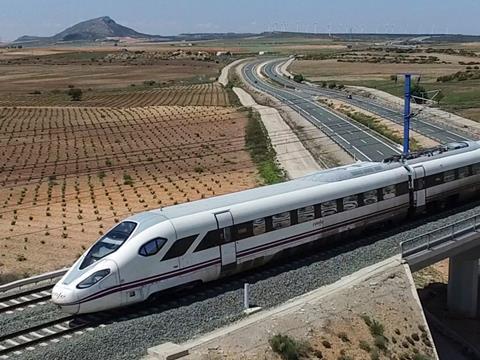 UK: High Speed 2 project promoter HS2 Ltd has invited CAF to join the list of suppliers shortlisted to bid for the contract to supply at least 54 trainsets.
HS2 Ltd took the decision in response to consolidation in the global rolling stock supply market, and the decision of Bombardier and Hitachi to form a joint venture to bid for the HS2 contract.
HS2 Ltd told Railway Gazette that CAF had originally expressed interest in the contract, but did not make the shortlist announced in November 2017 which comprised Alstom, Bombardier Transportation, Hitachi Rail Europe, Talgo and Siemens.
However, the expected merger of Alstom and Siemens Mobility, along with the Bombardier-Hitachi joint bid, would reduce the number of bidders from five to three, and so HS2 Ltd invited CAF to join the list 'in the interest of maintaining robust competition'.
This would also enable HS2 Ltd 'to protect ourselves in the long term', given speculation about the position of smaller supplier in the face of global consolidation.
All bidders have been notified of the change to the shortlist, and the delivery timescales have not changed, with entry into service planned for 2026.
CAF UK Director Richard Garner said the company was 'extremely pleased' to be joining the bidding, and if successful would build the trainsets at its new factory at Newport in Wales.
'Our Oaris high speed trains use the latest technology offering high speed travel which is comfortable, safe and provides digital connectivity to facilitate the busy world that we live in', Garner said. 'The new high speed trains will meet the highest international standards for passenger experience, noise reduction, and environmental sustainability.'