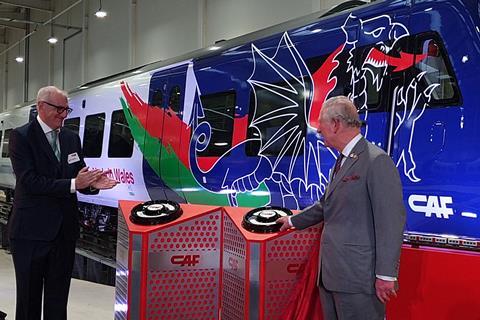 UK: CAF's rolling stock factory at Newport was formally inaugurated by the Prince of Wales on February 21, when he toured the facility and learned more about the complex process of building trains.
CAF now employs around 200 people at the factory on the Celtic Business Park, and this is expected to increase to around 300 as work ramps up.
The 15 000 m2 plant is currently equipped to produce diesel multiple-units, but it has been designed with the future installation of overhead electrification in mind. It stands on a 46 000 m2 site providing space for an extension of the factory buildings, and consideration is being given to adding the ability to assemble vehicle bodies rather than bringing pre-painted shells from other CAF sites.
The final two-car Class 195 Civity DMUs for Northern are currently being completed, alongside three extra three-car units which were a late addition to the contract when electrification of the Windermere branch was cancelled. The centre cars have already been assembled at Beasain in Spain and shipped to South Wales.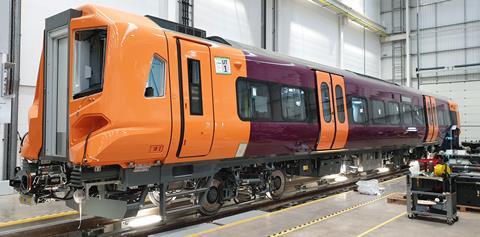 Construction has started on the first Class 196 DMUs for West Midlands Trains, with CAF due to supply 12 two-car and 14-four car sets for entry into service later this year. These differ from the Class 195 with the inclusion of inter-unit gangways.
The first bodyshells for 51 two-car and 26 three-car Class 197 DMUs ordered by KeolisAmey for TfW Rail are expected to arrive in the coming weeks, with entry into service planned for 2021-23.
Production of the 33 trainsets ordered in June 2019 for the Docklands Light Railway is currently scheduled to take place at one of CAF's European facilities, but during inauguration event at Newport the company indicated that it was still considering whether assembly could be carried out in South Wales and what works would be required to enable 750 V DC third-rail sets to be produced and tested at the site.
CAF has been shortlisted for the contract to supply at least 54 trainsets for High Speed 2, and during the opening event it was made clear that if successful it would manufacture these trains in Newport.