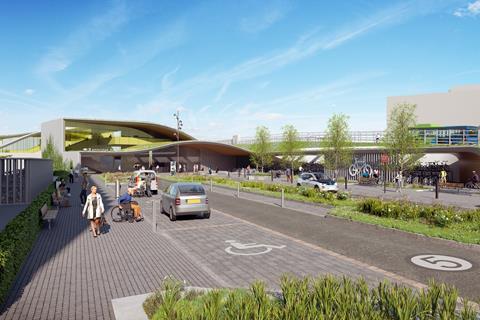 UK: The Cambridge South Infrastructure Enhancements scheme including the construction of a new station to serve Addenbrooke's Hospital and the Biomedical Campus has been given the go-ahead with the confirmation of around £200m of government funding.
The project includes remodelling the railway between Cambridge and Shepreth Branch Junction where the lines to London King's Cross and Liverpool Street diverge, with the provision of loops to provide four tracks through the new station.
The anticipated final cost is £210·8m, including payments to train operators for disruption and mitigation measures to ensure medical and scientific equipment at the Biomedical Campus is not affected by vibrations or electromagnetic interference from the railway.
The project is being managed by Network Rail, which expects to award the main contract for construction of the station in July.
Initial development funding for the scheme came from Cambridgeshire & Peterborough Combined Authority, AstraZeneca and the Greater Cambridge Partnership.
Having been involved at the design stage, contractor J Murphy & Sons is currently undertaking preparatory works for the station including the construction of a haul road, utility works and some initial construction and electrification activities.
Opening of the station is planned for 2025. It will be operated by Greater Anglia, with usage predicted at 1·8 million passengers/year. In the longer term, the station will be also served by trains on the East West Rail line linking Cambridge with Bedford and Oxford.
'This brand new station will not only benefit local passengers but deliver a major boost to the entire city, improving connectivity to a world-leading academic hub while unlocking local business and growth opportunities across the region', said Rail Minister Huw Merriman when he announced the government funding on June 5.
The Biomedical Campus is expected to accommodate 27 000 jobs by 2031, and around 4 000 new homes are planned for the Cambridge Southern Fringe area. Kristin-Anne Rutter, Executive Director of Cambridge Biomedical Campus Ltd, said 'currently, there are around five times as many visits to the site as there are car parking spaces. We have to find ways of making it easier for the thousands of staff, NHS patients and visitors arriving daily to get here without needing to use a car.'
The Cambridge South scheme is aligned with the separate but overlapping Cambridge Area Resignalling programme which is being undertaken by Alstom.
Mayor of Cambridgeshire & Peterborough Dr Nik Johnson said 'the combined authority will continue to champion not only this important project, but also the broader transport improvements our region needs to squeeze the full value out of it, like getting the Ely railway junction bottleneck sorted. Just this morning I pressed the Rail Minister, Huw Merriman, for a commitment to progress improvements at Ely junction, and will continue to do so until the job is done.'