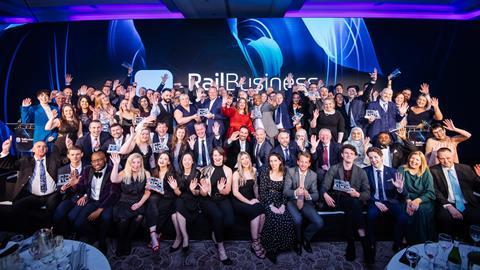 UK: More than 40 companies and organisations have been shortlisted for the 25th Rail Business Awards, recognising the achievements of the UK rail sector over the past 12 months.
Finalists for 14 of the 18 categories were announced on November 24. Winners of the Richard Hope Award for an outstanding personal contribution, Rail Freight & Logistics, Industry Leader and Rail Business of the Year will be revealed during the gala awards dinner at the Hilton Hotel on Park Lane in London's west end on Wednesday February 23 2023.
'It was very encouraging to hear about so many important initiatives that are being pursued across the rail sector, even at a time of great economic and political uncertainty', said Railway Gazette Group Senior Editor Chris Jackson. 'It has been encouraging to see ridership returning after the pandemic and investment continuing at a high level.
'With such a wide variety of submissions for the various awards, our independent judging panel has had its work cut out to identify the best of the best. I would like to congratulate everyone who made it to the shortlist.
'As in past years, there has been a strong field of entries for the Young Professional award, and it is good to hear about these inspiring young people making their mark across the industry.'
The Wellbeing in Rail Award, introduced for 2022 in conjunction with the Rail Wellbeing Alliance, once again attracted an encouraging number of entries, recognising the importance of mental and physical health across all parts of the rail sector.
Network Rail leads the pack overall, with its various regions and project teams represented in 10 shortlisted entries this year, closely followed by Northern Trains with nine. Other companies showing strongly include MTR Elizabeth Line, Great Western Railway, East Midlands Railway, Keolis Amey Docklands and One Big Circle, as well as Northern Ireland's Translink.
Websites
We are not responsible for the content of external sites