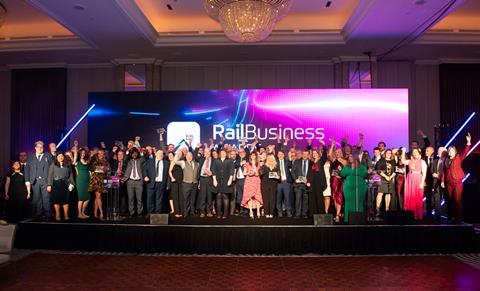 UK: Launched soon after rail privatisation to recognise and celebrate achievements across every aspect of industry, the 25th anniversary of the Rail Business Awards was marked with a gala evening hosted by comedian Zoe Lyons at London's Hilton on Park Lane on February 23.
Attended by more than 450 people, the event provided an opportunity to mark significant dedication and hard work by many people during 2022, as the rail sector faced up to the financial and social impacts of the coronavirus pandemic and the resulting shift in travel demand and working patterns.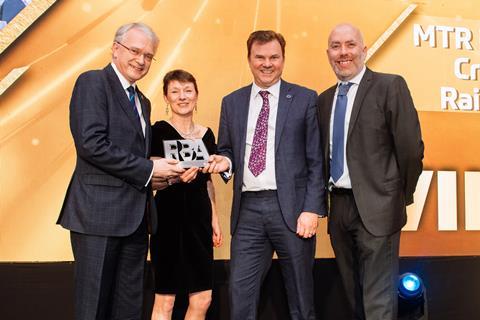 The evening began with a special Judges' Award to mark the successful delivery of the Crossrail project and the launch of Elizabeth Line services following its royal inauguration on May 17. In little more than six months, the line had already carried more than 100 million passengers.
People awards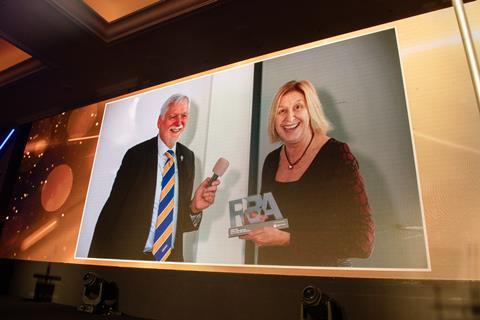 This year's Industry Leader award was won by Dyan Crowther, CEO of High Speed 1. She is also the chair of the National Skills Academy for rail and a member of the GBRTT advisory panel. Recently invested with an OBE for services to the rail sector, Dyan was commended for her commitment to diversity and skills, as well as encouraging more women into the industry and being recognised as a role model.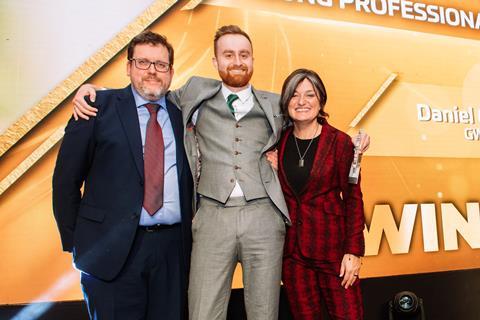 Daniel Golton from GWR was named Young Professional of the Year. The judges were impressed by the 'exceptional progress' that Dan had displayed during his 3½ years in the rail industry, and his achievements as Performance Manager which demonstrated a breadth of impact with a positive influence on the customer experience. Phoebe Bassett of SRC Infrastructure was highly commended as a positive role model for the project teams she leads and an inspiration to young women looking to a career in engineering.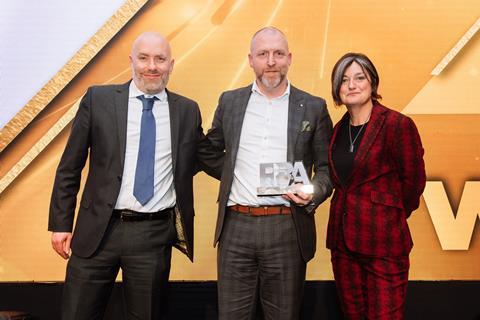 The Richard Hope Award for an Outstanding Personal Contribution to the UK rail sector was launched in 2020 to commemorate Railway Gazette's former editor, a tireless advocate for the rail sector. This year the award went to Alan Atkins, Alliance Director of the Central Rail Systems Alliance. The judges felt he was a very passionate leader, who had made a valuable contribution to the rail industry through his commitment and dedication, forging a cross-industry team that had delivered a series of major projects, including the King's Cross remodelling and Werrington grade separation.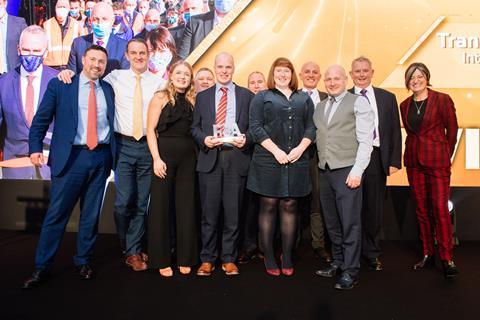 The Rail Team of the Year award went to Translink NI Railways' Intermediate Carriages Project Team. The judges said this was a great example of innovation, planning, and outstanding teamwork, which had kept a complex project on track and safe despite the challenges of Covid, with introduction ahead of schedule. Balfour Beatty's Track Geometry Services team was highly commended for demonstrating a commitment to safety excellence and community engagement.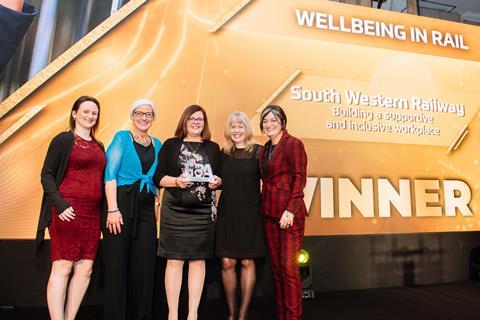 South Western Railway received the Wellbeing in Rail Award for its health and wellbeing initiatives. The judges said SWR's 'very honest' entry faced up to the issues that led to the introduction of a diverse range of mental and physical health initiatives that had exceeded all of its targets. Southeastern was highly commended for its clear commitment to employee wellbeing and its groundbreaking 'Experts by Experience' initiative.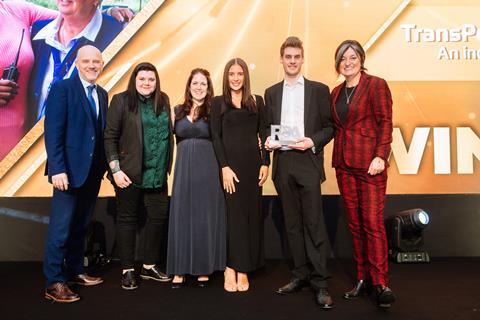 TransPennine Express was recognised with the award for Diversity & Inclusion in Rail. The judges said TPE's data-led and evidence-based approach to diversity and inclusion demonstrated a full understanding of the issues, as well as recognition that the same solution would not work in all situations. South Western Railway and Southeastern were both highly commended for their initiatives to move the dial on inequality and effect lasting change.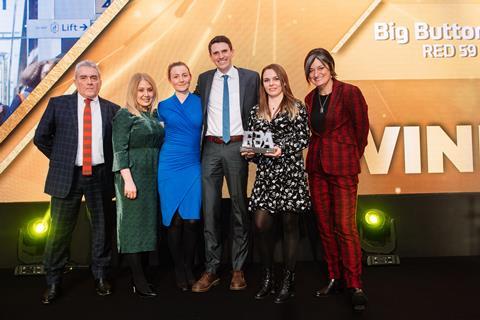 Big Button and RSSB were recognised with the award for Education & Training Excellence for their work in producing RED 59 Trespass safety awareness video. By humanising the risks and evoking emotion, the video created a dramatic impact to start meaningful conversations, making the viewer feel connected to the issues being addressed. Northern was highly commended for its 'fresh and pragmatic approach', using immersive technology which had clearly impacted the speed at which training could be implemented.
Engineering and technology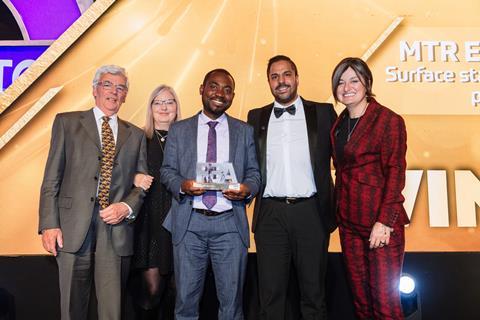 Turning to engineering, MTR Elizabeth Line won the Infrastructure Project & Station Excellence award for the Crossrail Surface Station Improvements Programme. The judges were particularly impressed with the way this extensive programme had been tailored to take account of local issues. Careful planning and delivery ensured continued safe operation while keeping the customer experience in mind. Network Rail was highly commended for the Waterloo W16 Signal Enhancement, a small project in a difficult location which delivered significant performance improvements and operating cost savings.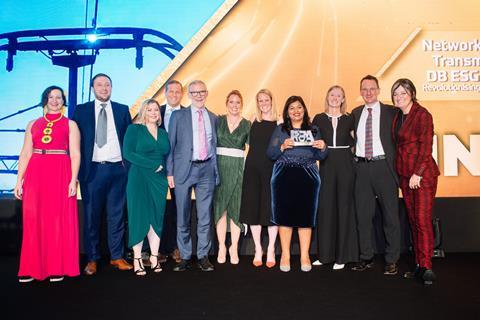 Network Rail, Angel Trains, Transmission Dynamics, DB ESG and One Big Circle received the Innovation of the Year award for a collaborative project to introduce novel technology for overhead line condition monitoring. The judges said it was encouraging to see such a broad spectrum of businesses collaborating. The most impressive innovation was the way the team had been brought together to play to their strengths and deliver 'data as a service'. SRC Infrastructure's Cooling the Tube project was highly commended for its fusion of technical and process innovation while creating new business and export opportunities.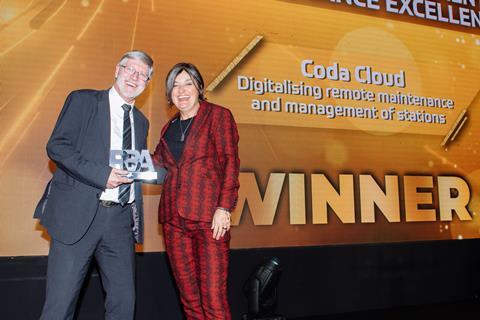 Coda Cloud received the Asset Management & Maintenance Excellence award for its work in digitalising the remote maintenance and management of stations. This demonstrated the value of using smart systems to monitor stations operations, delivering both financial and performance benefits. One Big Circle, Network Rail and their industry partners were highly commended for the important Low Adhesion Monitoring Project at Salisbury.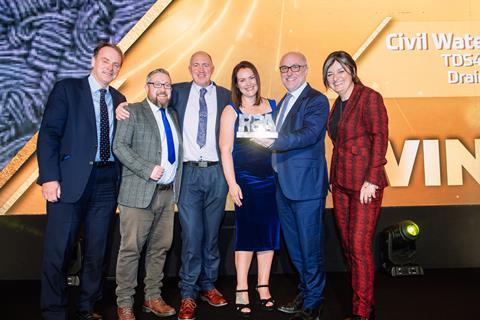 Civil Water Management was presented with the Supplier & Contractor Excellence award for the TDS400 Transport Drainage System project. Drainage is critical to a safe railway, particularly in extreme weather conditions, and the judges were impressed by the way CWM had worked with Scott Parnell to transfer the TDS400 technology from roads into the rail sector. X-Rail was highly commended for its international expansion, growing from a relatively small 'start-up' into a sizeable SME exporting British know-how around the world.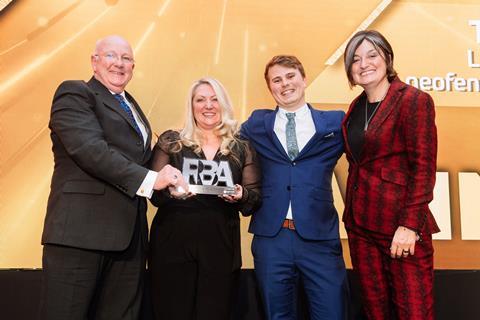 Tended won the Safety & Security Excellence award for the introduction to rail of its life-saving geofencing technology. The judges said geofencing was a strong advance in managing worksite safety, warning against misadventure or risk-taking to help prevent loss of life or serious injury. KeolisAmey Docklands was highly commended for a thought-provoking programme to change the organisation from a blame culture to a learning culture.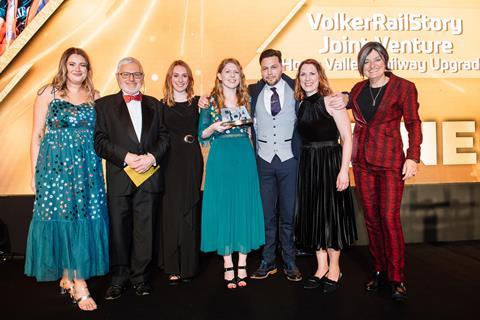 The VolkerRail Story Joint Venture took the Sustainability & Environmental Excellence award a range of sustainability initiatives on the Hope Valley railway upgrade, which had generated challenges due to its relative remoteness and being in a national park. The judges felt the joint venture had put in place a template for any project that aimed to achieve challenging sustainability targets, community benefits and a positive experience for the whole workforce. Network Rail was commended for its Lineside 2035 initiative, which potentially offered long-term social benefits.
Operations and services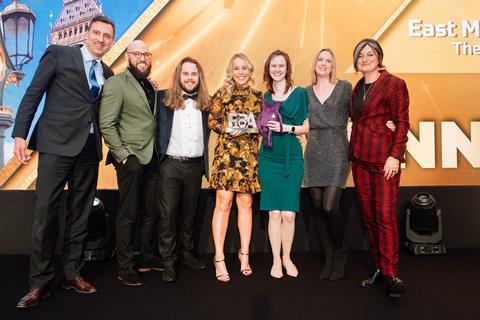 East Midlands Railway took the Marketing & Communications Excellence award for its 'The Making of Miles' campaign. The judges felt EMR had shown creativity and customer understanding to create a marketing campaign that would work with different audiences, along with excellent execution and evaluation of the metrics to demonstrate an impressive short-term return. The judges highly commended Northern for an initiative to promote the benefits of travel in response to an unprecedented desire to stay at home.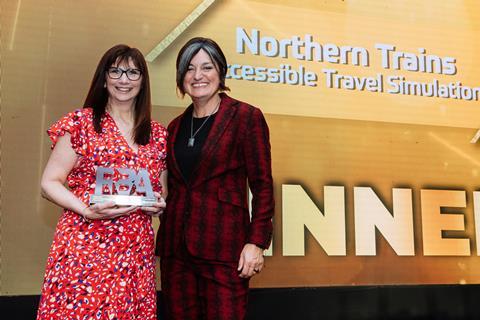 Northern took the award for Customer Service Excellence for its Accessible Travel Simulation. The judges felt that this work to re-imagine accessibility using VR tools had shown some excellent collaboration across stakeholders, while creating a potentially useful concept which needed to be rolled out more widely.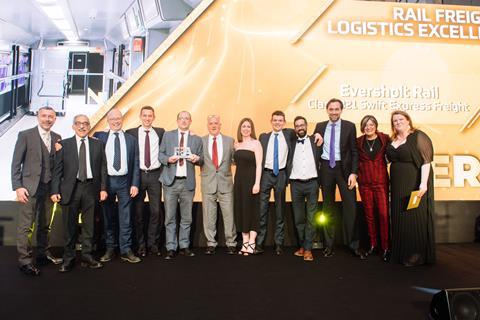 The award for Rail Freight & Logistics Excellence went to Eversholt Rail for its Swift Express Freight initiative, adapting surplus Class 321 EMUs to carry parcels at high speeds. The judges said this offered a cost-effective alternative to road transport, that was now being taken up by operators and looked set to expand in the coming years.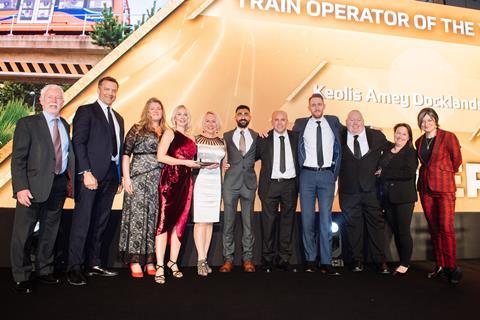 KeolisAmey Docklands was named Train Operator of the Year. While running a stand-alone network was different to a main line railway, the judges felt KAD had delivered a superbly reliable service in the face of some real challenges, while pursuing a comprehensive range of 'extra-curricular' activities. Greater Anglia was highly commended as the best main line operator, delivering record levels of performance and a high level of community engagement, complemented by an impressive environmental performance.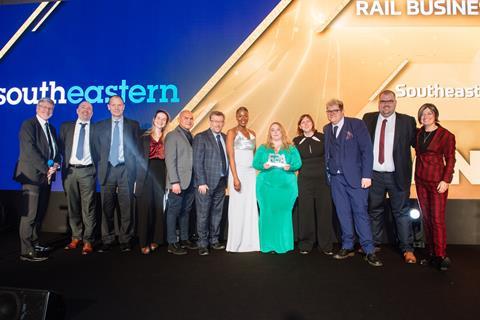 Finally the award for Rail Business of the Year went to Southeastern. The judges felt that the Southeastern had made positive progress following its transfer to the operator of last resort in October 2021. As well as improving performance and reliability under a strong customer-focused leadership, it was preparing a comprehensive timetable change and starting to explore options for replacing its increasingly ageing fleet.
'Once again we have seen an inspiring selection of entries from all parts of the rail sector', said Railway Gazette Senior Editor Chris Jackson. 'Although times are challenging, there is still much to be celebrated, as we have seen tonight. My congratulations to some very worthy winners, who are setting an example for others to follow.'