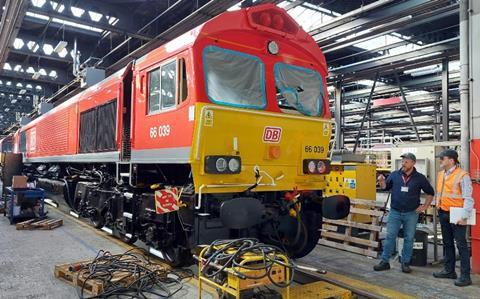 UK: DB Cargo announced on November 8 that work had started to equip a Class 66 diesel locomotive with the latest iteration of ETCS onboard equipment as part of the East Coast Digital Programme.
After several years of design work, loco 66039 has been delivered to Electro-Motive Diesel's engineering workshop in Doncaster where the ETCS onboard equipment is to be installed. This will be supplied by Siemens Mobility to the latest Baseline 3.6.0 specification. Expected to take around six months to complete, the 'first-in-class' fitment is intended to serve as a blueprint for the roll-out of ETCS across the most widely used freight locomotive type in Britain.
The roll-out is being co-ordinated under the East Coast Digital Programme, a cross-industry partnership led by Network Rail. This is managing the introduction of the European Rail Traffic Management System on the East Coast Main Line and paving the way for a Long Term Deployment Plan to roll-out ETCS across the network.
Earlier this year, the UK government announced an additional £1bn of funding to facilitate the first phase of ERTMS installation on the 160 km southern section of the ECML between London King's Cross and Stoke Junction, south of Grantham.
A handful of older freight locomotives and maintenance vehicles were fitted with an earlier iteration of ETCS to operate on the Cambrian route in Wales, which was converted to Level 2 operation in October 2010 as the UK's Early Deployment Scheme for ERTMS. However, this used the Version 2.3.0d specification that is not compatible with the later Baseline 3 systems being installed on the ECML.
Under LTDP, DB Cargo UK has been chosen to undertake 'first in class' ETCS fitment for its Class 60, 66 and 67 diesel locomotive fleets and for the Class 325 parcel EMUs owned by Royal Mail.
'DB Cargo UK, working in close partnership with our colleagues at Siemens Mobility and Network Rail, is delighted to be playing a pioneering role in the roll-out of ERTMS and ETCS which will use digital technology to create a more dynamic, more reliable, and more flexible railway here in the UK', said DB Cargo UK's Chief Transformation & Digitalisation Officer Marie Hill.
Ed Akers, NR's Principal Programme Sponsor for the East Coast Digital Programme, added that 'commencing the installation of ETCS on this freight locomotive marks a significant milestone on the programme and brings us closer to creating a more dynamic and reliable railway for all those using the East Coast Main Line'.
'This first installation is a key milestone marking the first of over 700 locomotives to be fitted', said Ian Macleod, Siemens Mobility Project Director. 'We are proud to be working together with Network Rail and DB Cargo preparing the first vehicle for testing and operation in 2023.'