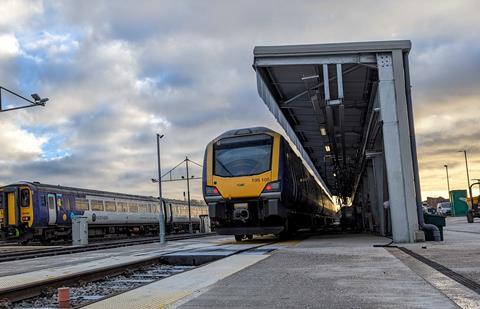 UK: RTS Infrastructure Services has installed a new fuelling and servicing facility at Northern's Barrow-in-Furness light maintenance depot, as part of a project which the contractor's Managing Director Chris Reid said was a 'masterclass in teamwork and flexibility'.
The depot enhancements enable Northern to operate six-car Class 195 diesel multiple-units between Cumbria and Manchester Airport, increasing capacity and reliability as part of the service changes developed by the Manchester Recovery Task Force.
A new 75 m servicing road means that up to three vehicles can be serviced and refuelled simultaneously, whereas previously the site could only handle one DMU car at a time.
A steel canopy has been constructed to provide shelter for staff and house the new equipment, while the pumps have been upgraded and energy efficient lighting installed.
Northern's project manager Craig Wood said the work was completed to a very tight timescale thanks to 'a truly collaborative approach' which saw the operator's engineering and facilities team work closely with the contractor.
Thanking depot staff 'for their support and proactive attitude that was fundamental in delivering the depot enhancements in a safe and timely manner', Reid said the project demonstrated the ability of RTS Infrastructure Services to deliver depot enhancement programmes while minimising the impact on operations.