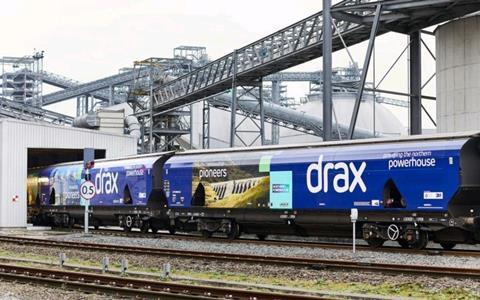 UK: Drax Group has awarded WH Davis a contract to supply a further 30 high-capacity biomass wagons, which the generator says will reduce emissions on the route from the Port of Tyne to its power station in North Yorkshire by more than 25%.
Drax has a fleet of 225 wagons developed by Mansfield-based WH Davis and Lloyd's Register Rail (now Ricardo Rail) which have a capacity of 71·6 tonnes. The first of the latest batch are expected to come off the production line in early 2023.
Around 17 biomass trains per day arrive at Drax power station over a six-day week, with each train carrying sufficient biomass to generate electricity to supply around 800 homes for a year.
'Our biomass trains deliver up to 30 000 tonnes of biomass to the power station each day', said Plant Director Bruce Heppenstall on November 15. 'It's therefore vital that we have a robust supply chain and investing in these new wagons will further increase our resilience and cut carbon emissions on our Tyne to Drax rail route by more than a quarter, whilst continuing to support thousands of jobs across the north, including at WH Davis and Davis Wagon Services' facilities.'
'As the only rail freight manufacturer in the UK it is important for us to win such contracts to ensure the continuity of skills within our locally-based work force', said Jonathan Hamer, Managing Director of WH Davis. 'Drax's confidence in us allows this to continue and develop.'