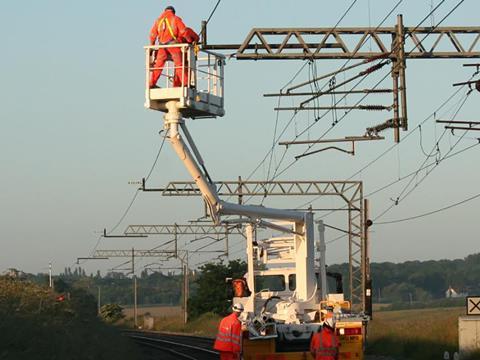 UK: The Scottish government has confirmed funding for the East Kilbride Enhancement Project, saying a rolling programme of electrification forms a key element of its transport decarbonisation plans.
The announcement on September 6 confirms £96·3m of funding for project delivery.
This is on top of £43·5m which was previously authorised for development and advanced works, which are being undertaken alongside enhancements to enable the launch of electric services between Glasgow and Barrhead from December this year.
The East Kilbride Enhancement Project includes:
22·4 track-km of 25 kV 50 Hz electrification between Busby Junction and East Kilbride to enable the use of electric trains on the route from December 2025;
relocating Hairmyres station as part of a new intermodal transport hub with two platforms, accessible buildings and a footbridge with lifts;
platform extension and a new accessible building at East Kilbride;
an accessible footbridge with lifts and platform extension at Giffnock;
a new footbridge and additional entrance at Clarkston station;
a new footbridge at Busby station;
a 1·4 km extension of the Hairmyres Loop to provide an extended double track section to improve operating performance and flexibility.
Alex Hynes, Managing Director of Scotland's Railway, said 'this project will enhance a key transport corridor, providing a more reliable, more inclusive and greener railway for our customers. The electrification of the East Kilbride line is the next phase of our rolling programme of decarbonisation, creating more environmentally friendly travel options for communities throughout Scotland.'
The funding was welcomed by the Railway Industry Association's Scotland region, which said the supply chain 'has a good delivery record in Scotland and is working closely with Scotland's Railway to innovate and continuously improve'.
RIA Scotland said the key to efficient delivery is 'a rolling programme of electrification which allows skills to be retained and developed', and said it would like to see more consideration of opportunities for private investment in rail infrastructure.