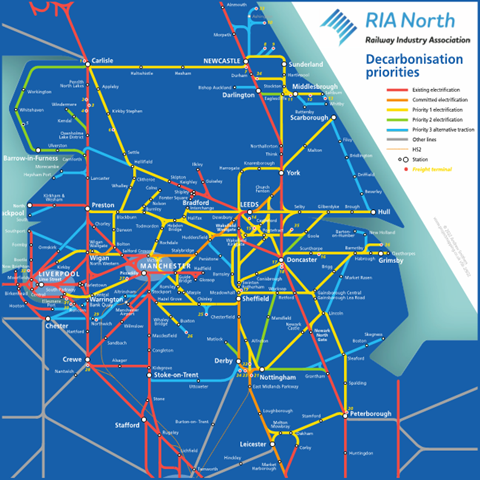 UK: The Railway Industry Association North has published Greener, Faster, Better, setting out which routes in northern England should be prioritised for electrification and where battery or hydrogen could be appropriate.
This was one of the key recommendations of RIA North's previous Building the North's New Railways report. Greener, Faster, Better concludes that the routes most optimal for electrification are those that serve as strategic freight corridors, key inter-city corridors, radial suburban networks and strategic diversionary routes.
The Midland Main Line and Transpennine Route Upgrade, which the government has already committed to, offer the greatest decarbonisation benefits.
The next top 10 priority schemes are:
Sheffield to Doncaster/Moorthorpe;
Manchester Victoria to Leeds via Bradford Interchange;
Northallerton to Saltburn via Middlesborough;
Manchester to Sheffield (Hope Valley);
Leeds to Hull;
Carlisle to Newcastle;
Doncaster to Immingham;
Wakefield Kirkgate to Drax/Leeds;
Sheffield to Werrington via Lincoln;
Leeds to York via Harrogate;
'Many of the North's major freight and passenger routes continue to rely on diesel trains and critical connections between some of our largest cities are in need of major upgrades', said RIA North Chair Justin Moss on October 19. 'Electrification is the solution to many of these challenges.'
He added that 'whilst we have seen some progress with commitments from the government in the Integrated Rail Plan, these do not go far or fast enough to reach our climate targets. To ensure they can be delivered at good value to the taxpayer the industry needs a long-term programme of electrification work starting immediately.'
Websites
We are not responsible for the content of external sites