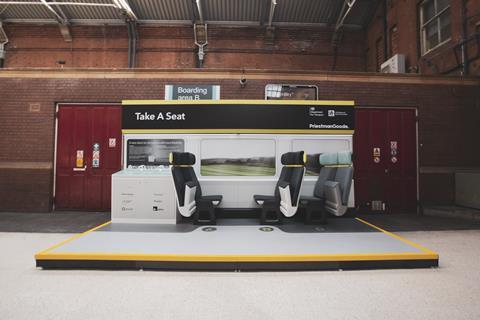 UK: Design agency PriestmanGoode has put a flexible train interior mock-up on display at London Marylebone station. Branded 'Proteus' after a Greek god able to foretell the future, the design concept aims to offer more comfort and flexibility and reflect societal changes emerging from the coronavirus pandemic.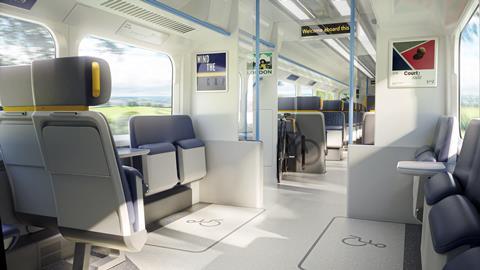 The focus is on ideas which could realistically be used in commercial service, and could help operators to attract more passengers back to rail in the post-pandemic period.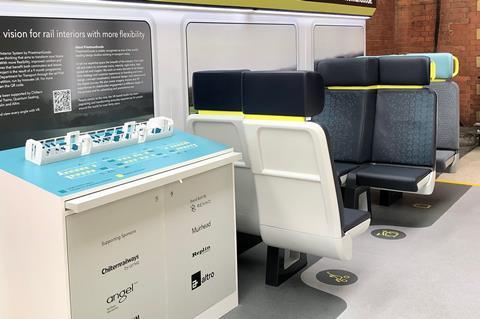 PriestmanGoode was awarded funding for the project through the Department for Transport's First of a Kind competition run by Innovate UK, with the application supported by Angel Trains and Chiltern Railways.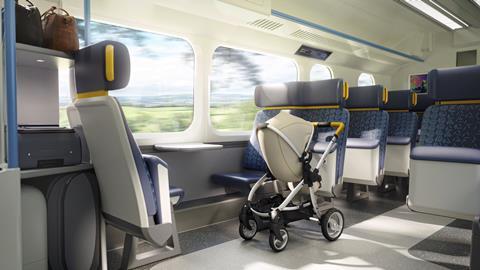 The demonstrator at Marylebone allows members of the public to test new seats and aspects of the train layout. The main features include a staggered seat layout that eliminates 'shoulder clash' and a headrest to improve comfort and privacy; a wider, more accessible aisle with a 2+2 seat configuration achieved by the removal of the middle seat; and pairs of seats with a tip-up seat pan on aisle seats, allowing passengers to keep cases or fold-up bikes close by.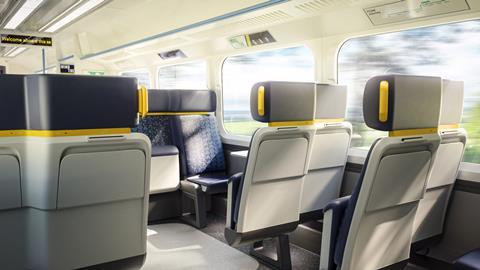 According to PriestmanGoode, this approach could bring benefits for families with buggies allowing them to travel together in open bay seats that also offer tip-up seats. Flexible spaces adjacent to all entrance vestibules are fitted with longitudinal seating that could be used for multiple purposes, depending on demand.
Research-driven demo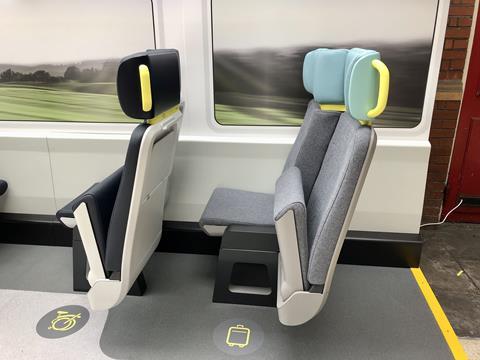 A PriestmanGoode spokesman told Rail Business UK during a visit to Marylebone on March 30 that the feedback from passengers had been positive, with many asking when the concept could be implemented.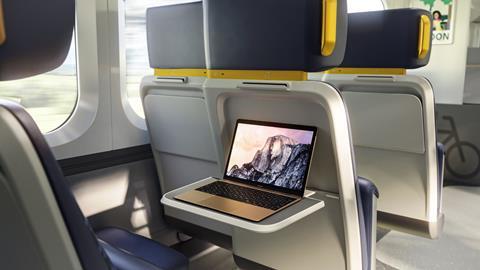 As part of the preparatory work the designers spent several days using Chiltern Railways services and observing passenger behaviour. Large-scale surveys of regular rail users were undertaken, as well as interviews with people who have been deterred from using trains during the pandemic.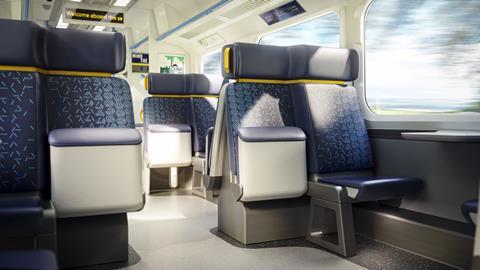 Among the key outputs was an ongoing desire from passengers to have a seat whenever possible, but also a greater emphasis on comfort and privacy. One common request from passengers was for an interior that allowed productive work during their commute, since many people are leaving city centre offices earlier than they would have before the pandemic.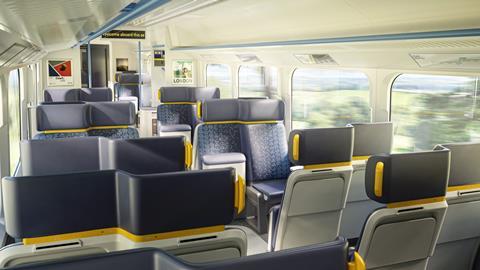 The mock-up closely follows the standards required for commercial use in the UK, although some materials, such as the foam in the seats, would be modified further. Other likely changes include the addition of small window-side tables, and potential modifications to the charging points, which are currently seat-back mounted USB ports.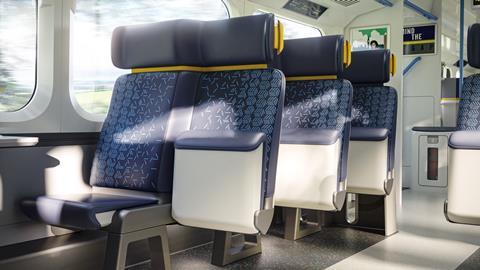 The interior is broadly based around the Chiltern Railways/Angel Trains Class 165 DMU; the operator and leasing company are currently looking at options for the life extension of this fleet.
The seats were produced by Quantum Seating within an existing rail frame, and materials and finishing was supplied by project partners Muirhead (leather), Replin (woollen fibres) and Altro (flooring).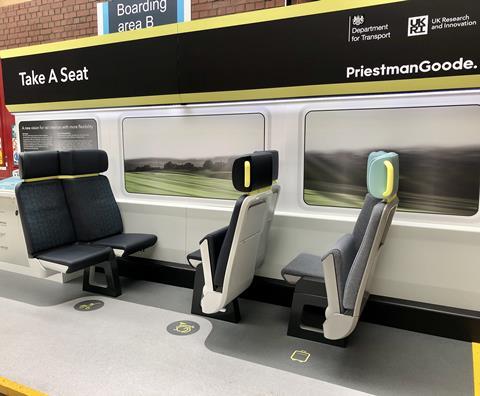 After the exhibition at Marylebone closes on April 3, PriestmanGoode and its partners will gather feedback before seeking commercial opportunities. The design agency reports that expressions of interest have already been received in flexible interior concepts from international operators and rolling stock companies, notably in Sweden.