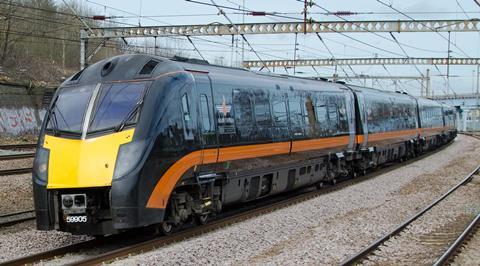 UK: Following the government's February 22 announcement of a proposed timeline for easing coronavirus lockdown restrictions in England, open access operators Grand Central and Hull Trains have confirmed that they are to remain in 'hibernation' for the time being.
Unlike franchised operators, the open access operators are not eligible for government support and so have suspended services while travel demand is low during the lockdown.
Following discussions with employees and union representatives, Grand Central said it is now aiming to restart services on March 27, with reservations available through to May.
The Arriva-owned operator said it would continue to make use of the government's furlough scheme, including flexible furlough, and would closely monitor the easing of restrictions and passenger demand.
'Should circumstances allow us to bring our trains back to you earlier, we will do so', said Managing Director Richard McClean on February 23. He said recent reductions in the national transmission rate, a drop in Covid-19 related hospitalisations and the ongoing vaccination programme 'leaves me hopeful that when we return to service it will be permanent, albeit cautious and incremental'.
Meanwhile, FirstGroup's Hull Trains told Rail Business UK it continues 'to carefully consider when we plan to resume services', and will 'share any news on return dates as soon as we are able'.
'As England cautiously moves out of lockdown in the coming months, we shall continue to monitor demand from passengers', added Managing Director Louise Cheeseman. 'I am confident that we can safely resume once more people begin to travel again and it's financially viable for us to roll out our resumption plan.'