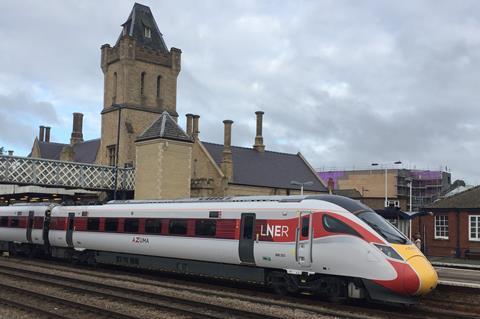 UK: 'We are putting Lincoln firmly on the LNER map', said Customer Service Director Suzanne Donnelly at the formal launch of Azuma services off the East Coast Main Line on October 21.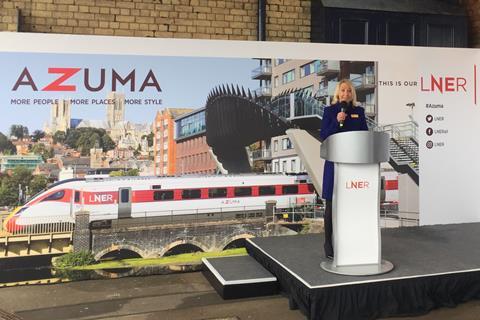 With effect from the December timetable change Lincoln will benefit from a two-hourly inter-city service to and from London King's Cross, with LNER providing five extra trains to augment the current weekday peak-hour HST, which is itself due to be replaced by an Azuma trainset in the next few weeks as part of the ongoing fleet replacement programme.
The enhanced Lincoln service had been promised as part of the former Virgin Trains East Coast franchise bid, but its launch was delayed by the lack of suitable rolling stock. As an interim step the trains were introduced between London and Newark Northgate. The availability of sufficient Hitachi-built class 800/2 five-car electro-diesel trainsets has allowed four services each way to be extended through to Lincoln Central with immediate effect, with an extra weekday train and weekend services being added in December.
Donnelly said LNER would be introducing the Saturday trains 'a week early' to serve the popular Lincoln Christmas market. The operator would also be offering attractive family and business fares, she added.
Welcoming the inaugural train, the CEO of Visit Lincoln Mike Timson noted that the project had been '10 years in the making', but finally the many parties had come together to 'get Lincoln the train service it deserves'.
According to Safety & Operations Director Warrick Dent, LNER has now accepted 35 of the 65 Class 800 and 801 trainsets being supplied under the Intercity Express Programme. The entry into service of five-car Class 801 electric sets on the West Yorkshire route has released bi-mode units to work the Lincoln trains, he explained.
Fleet performance is now at the level expected, although he admitted that achieving the desired reliability had been 'not without challenges' for the fleet engineering team.
The first of the 30 nine-car Class 801 electric sets was accepted last week and is currently undergoing fault-free running before entering revenue service.
Arrival of the remaining units will displace five and nine-car bi-modes to operate the Inverness and Aberdeen routes, allowing the final HSTs to be phased out by the end of the year. More London – Leeds services will also be extended though to Harrogate, using bi-mode trainsets.