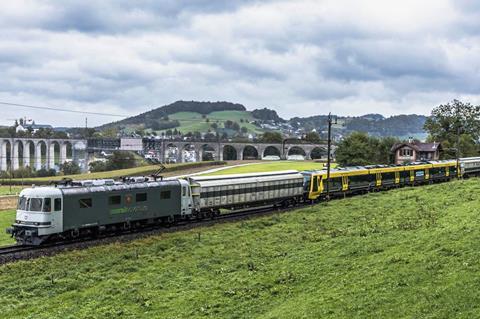 UK: The first of 52 bespoke four-car electric multiple-units which Stadler Bussnang is building for Liverpool area commuter operator Merseyrail has been sent for dynamic testing at the Wildenrath test circuit in Germany.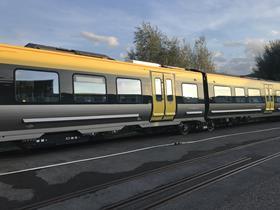 This follows the completion of static testing at the factory in Switzerland on October 2. 'These trains for the Liverpool City Region are not off-the-shelf, but tailored to a very specific brief', said Stadler project manager Matthias Hämmerle. 'Securing the acceptance of static testing for the first assembled train is a proud day for both our customer and everyone else involved.'
The 750 V DC third-rail EMU will run at up to 120 km/h on the Wildenrath circuit to enable testing of its braking systems and electromagnetic performance. This is intended to minimise the testing which will be required once it is delivered to the UK.
The first unit is expected to arrive in the UK in December, and will be based at Kirkdale depot for testing and driver training. Entry into passenger service is planned from 2020.
'I'm pleased to see us moving another step closer to rolling out state-of-the art, accessible, publicly-owned trains on our network', said Steve Rotheram, Metro Mayor for the Liverpool City Region, on October 7. 'The new trains are an important part of my plans to deliver a London-style transport network for the Liverpool City Region and I can't wait to see them in service from next year.'
The Liverpool City Region Combined Authority named Stadler as preferred bidder for the Merseyrail order in December 2016, with the Swiss company beating Bombardier Transportation, CAF, Siemens and a consortium of Mitsui, Alstom and East Japan Railway's J-TREC.
The contract signed in February 2017 is worth up to £700m, including maintenance by the supplier throughout the fleet's expected 35-year life.