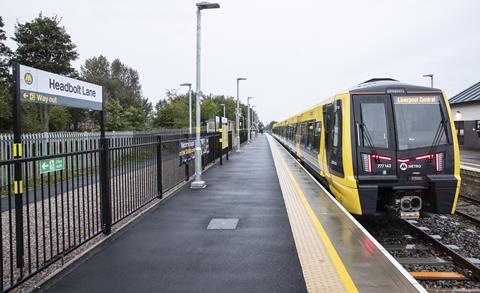 UK: A memorandum of understanding has been signed for discussions which could lead to further devolution of control of the rail network in Merseyside and collaboration to deliver a 'fully integrated' public transport system.
The MoU was signed on November 16 by Secretary of State for Transport Mark Harper, Liverpool City Region Combined Authority, Network Rail and the Great British Railways Transition Team. The parties will work together to assess the future of the region's rail network.
Mayor of the Liverpool City Region Steve Rotheram said 'this deal signifies not only a massive moment for our region, but the start of a new wave of devolution for the country. It puts us on track to open up the right conversations around how we can improve our rail network for the better and run it in the best interests of passengers.'
Control of the Merseyrail concession covering the 750 V DC suburan network around Liverpool is already devolved, and its new fleet of Stadler trains is owned by the Combined Authority. Rotheram wants to see further devolution, with the Combined Authority having greater control over investment in network enhancements and station facilities.
Transport Secretary Mark Harper said the agreement 'demonstrates this government's commitment to transforming public transport across the country and empowering elected leaders to make decisions based on the priorities of local people'.