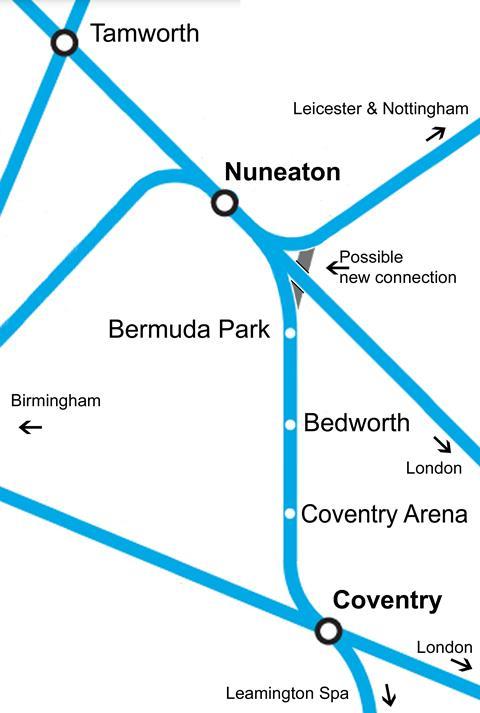 UK: Midlands Connect has set out proposals for a direct passenger train service between Coventry, Leicester and Nottingham. Its report has been released ahead of the publication of the government's Integrated Rail Plan for the Midlands and northern England, which the regional transport strategy body sees as a 'once in a generation opportunity' to improve connections between the three cities.
The first direct service between Coventry, Leicester and Nottingham for two decades would be facilitated by a new dive-under below the West Coast Main Line at Nuneaton and investment to increase Coventry – Nuneaton line speeds from 70 to 95 km/h. An older connection between the Leicester and Coventry lines at Nuneaton was removed in 2003 as part of the West Coast Route Modernisation.
Passengers on the corridor currently have to change trains and platforms at Nuneaton station, leading to what the report says is 'a slow, inconvenient service'. As a result, only 3% of trips between Coventry and Leicester are made by rail, compared to 30% of trips between Coventry and Birmingham which has a regular, fast and direct connection.
'I can't think of two UK cities other than Coventry and Leicester that are as close, yet so appallingly connected by rail', said Leicester City Mayor Sir Peter Soulsby. 'At the moment it can take up to 1 h 20 min to travel less than 25 miles, and passengers have to change trains half-way – it's simply not good enough. Given this, it's no wonder that 97% of trips on this route are made by road.'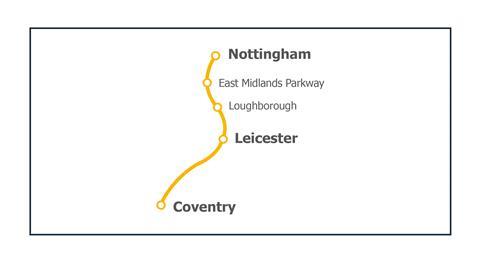 The proposed two trains/h through service would cut the Coventry – Leicester journey time by 30% and Coventry – Nottingham by 35%, with trains also calling at Loughborough and East Midlands Parkway.
During the launch of the report a number of questions were asked about whether trains would stop at Nuneaton. Delegates were divided between those insisting that Nuneaton should be served, and others keen to see journey times between Coventry and Leicester reduced as much as possible.
It is envisaged that the first trains could be running in four years, subject to funding. The costs are estimated at £90m to £100m, but the benefits of to the local economy at more than £170m.
Midlands Connect hopes to get permission to take the plans to the next stage of development, completing an outline business case by the end of next year.
'Here we have a missing link, a really important link between the east and the west Midlands, and this is our opportunity to reforge it', said leader of Coventry City Council George Duggins. 'At the moment the Midlands' east-west rail connections are sub-standard, holding us back from a more productive and sustainable future. Turning these plans into reality is an essential step in boosting prosperity and public transport use across our region — let's get on with it.'