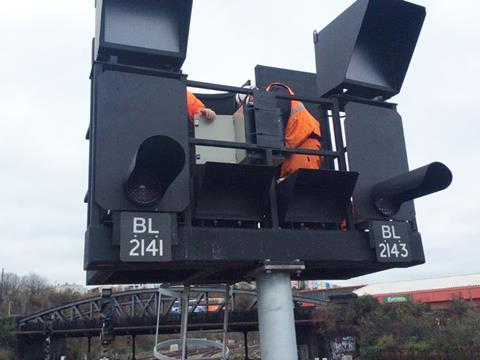 UK: Network Rail announced on June 25 the award of 17 framework contracts for signalling works with a total estimated value of £215m. The contracts cover 'minor' signalling works including refurbishment and component replacement.
Network Rail CP6 Minor Signalling framework contracts
Route
Value
Contractors
Western
£25m-£75m
Amey, Balfour Beatty, Linbrooke
London North Eastern & East Midlands
£30m-£40m
Volker Rail, Balfour Beatty
Wessex
£20m-£40m
Amey, Balfour Beatty
Wales
£2m-£10m
Amey, AMCO Giffen
South East
£5m-£10m
Amaro, AMCO Giffen
Anglia
£5m-£10m
Volker Rail, Linbrooke
Scotland
£2·5m-£10m
OSL, AMCO Giffen
London North Western
£10m-£20m
Volker Rail, Linbrooke
This is the second of three packages of framework contracts covering signalling works during Control Period 6, which runs from 2019 to 2024.
Commercial Director, Signalling, Martin Robinson, said the infrastructure manager's approach of using fewer contractors in CP6 would 'help bring them closer to Network Rail and the routes and make further progress in working more collaboratively.'
The signalling & telecoms package of six framework contracts was announced in April, covering targeted interventions and stand-alone level crossing and major telecoms works with an estimated total value of £750m.
The third package covering major signalling works including re-signalling and control projects is scheduled to be awarded in January 2020. Tendering of the contracts is being phased to help improve efficiency for Network Rail and the supply chain.