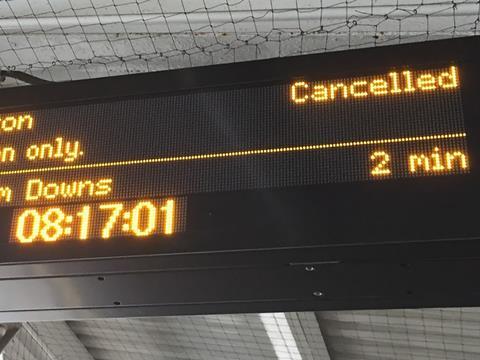 UK: The Office of Rail & Road has published its first performance statistics for passenger operators using a revised method of calculating delays.
Under the new methodology, a train is counted as being on time if it arrives at a station within 1 min of schedule. This is in contrast to the Public Performance Measure, which only uses arrival at the final destination and delays of more than 5 min, or 10 min for long-distance services.
'We are publishing these new measures of punctuality and reliability to aid transparency of train performance and to help the industry focus on exactly where problems are arising and therefore direct their efforts on finding a solution', said Lyndsey Melbourne, ORR's Head of Information & Analysis.
Secretary of State for Transport Grant Shapps said the change was 'a step in the right direction, providing more accountability and transparency to help hold operators to account, but much more needs to be done to get performance to where it should be'.
Watchdog body Transport Focus also welcomed the revised approach, saying it would help rebuild trust in the rail industry
The calculations published on September 19 show that 64·7% of station arrivals were on time in the year to June 2019, a 2·5 percentage point improvement from last year, and 2·8% of trains were cancelled, down 0·1 percentage points. More than half of all cancellations were down to train operating companies, with 27·8% down to Network Rail and 17·1% caused by external issues such as severe weather and trespassers.
Websites
We are not responsible for the content of external sites