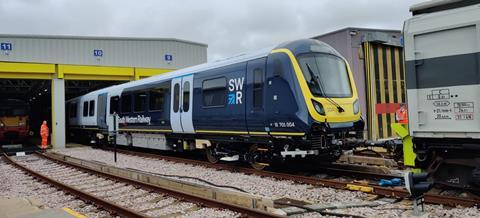 UK: A contract amendment has been agreed which gives South Western Railway an option to acquire up to five more Class 701 Aventra electric multiple-units from Bombardier Transportation through leasing company Rock Rail.
The original £895m agreement between First MTR South Western Trains Ltd and Rock Rail South Western plc finalised in June 2017 covered the lease of 60 Class 701/0 10-car and 30 Class 701/5 five-car units, along with the provision of spare parts and maintenance support services. The first of these commuter EMUs was delivered to SWR for testing last month.
The agreement included an option for Rock Rail to purchase a further two 10-car EMUs if required by SWR. The scope of this option has now been increased enable a total of five 10-car units to be ordered on or before September 30 2020.
'This is a simple variation on our existing contract, which would allow us to order additional units if needed in the future', a SWR spokesperson told Rail Business UK on July 16. 'There is currently no change to the 90 trains we have on order.'