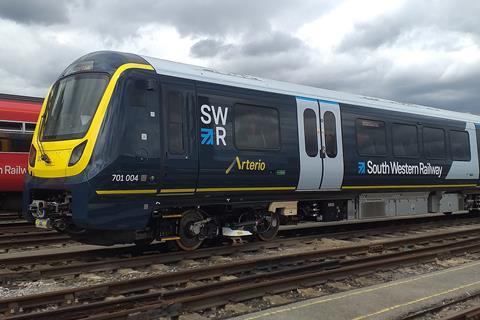 UK: New milestones for the significantly delayed roll-out of South Western Railway's Class 701 Arterio electric multiple-unit fleet are to be agreed with the Department for Transport as part of the operator's Business Plan for 2022-23.
No firm dates are given, but the Business Plan says 'we will introduce the new Arterio fleet as soon as possible, while minimising risk to our timetable, and continue to manage the Arterio programme in line with our obligations'.
A contract for Bombardier Transportation — which was subsequently acquired by Alstom — to supply 60 10-car and 30 five-car Class 701 third-rail EMUs was announced by SWR's parent companies FirstGroup and MTR Corp in June 2017. The £895m order was financed by leasing company Rock Rail and partners SL Capital and GLIL Infrastructure.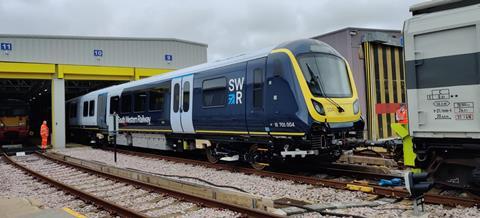 Entry into service on SWR's Windsor, Reading and southwest London suburban routes was planned for mid-2019, but was put back to mid-2020 because the manufacturer required more time to complete software development.
The first EMU was delivered for testing in June 2020, but in January this year SWR said it was still waiting for Alstom 'to supply a train that performs to specification' before it could begin an testing, crew training and mobilisation.
Problems are understood to include the cab layout, where the production sets differ from the design agreed with drivers' trade union ASLEF. Audits by Alstom following its purchase of Bombardier Transportation also identified problems with the manufacturing process that were leading to trains being completed with large numbers of defects needing to be rectified at significant cost.
'We recognise that there have been continuing problems that have prevented the start of driver training and delayed the programme of train acceptance, but close working with our partners Alstom and Rock Rail is expected to resolve this situation shortly', SWR says.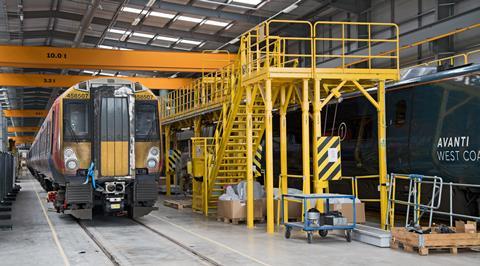 Meanwhile, Alstom's Widnes plant is now assessing the first of the 28 Class 458 EMUs which are to refurbished for continued operation by SWR under a £25m contract awarded by Porterbook in 2021.