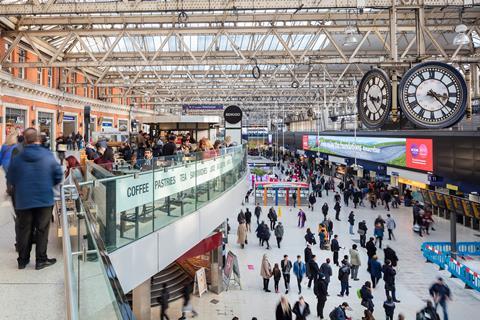 UK: London Waterloo has regained its status as the most used National Rail station according to estimates for the 2020-21 financial year, although usage was less than half that recorded in the last year before the coronavirus pandemic.
The Office of Rail & Road's estimates for passenger entries and exits for the year to March 31 2022 cover 2 570 stations. The figures are derived from the LENNON revenue system and local ticketing data, with some adjustments.
10 busiest stations by estimated entries and exits, 2021-22
1
London Waterloo
41 426 042
2
London Victoria
36 776 338
3
London Bridge
33 309 348
4
London Liverpool Street
32 165 310
5
Stratford (London)
28 182 238
6
London Paddington
23 870 510
7
London Euston
23 097 606
8
Birmingham New Street
22 682 526
9
London King's Cross
20 476 492
10
Manchester Piccadilly
19 581 442
London Waterloo had been the UK's most used station for 16 years until it was overtaken by Stratford (London) in 2020-21, when rail ridership was massively reduced at the height of the pandemic. Waterloo returned to the top place in 2021-22, but the 41·4 million entries and exits recorded were less than half of the 86·9 million seen in 2019-20.
Stratford (London) dropped to fifth place in 2021-22 with an estimated 28·2 million users, although that was more than double the number recorded for 2020-21.
Eight of the top 10 stations were in London, with Birmingham New Street remaining in eighth place (22·7 million) and Manchester Piccadilly moving up from 18th place last year to 10th place (19·6 million).
ORR reported that 24 stations had more than 10 million entries and exits during the year, up from five seen the previous year but well down on the 43 achieving that level two years ago.
Glasgow Central remained the most used station in Scotland with 15·3 million entries and exits, up from 5·3 million last year but down from 32·5 million in 2019-20.
Cardiff Central was the busiest station in Wales with 7·5 million entries and exits, an increase from 2 million last year but down from 12·7 million two years ago.
Least used stations by estimated entries and exits, 2021-22
1
Elton & Orston, Nottinghamshire
40
2
Teesside Airport, Darlington
42
3
Stanlow & Thornton, Cheshire
44
4
Denton, Greater Manchester
50
5
Kirton Lindsey*, North Lincolnshire
68
6
Sugar Loaf, Powys
76
*The Saturdays-only service from Kirton Lindsey was suspended from April 1 to May 22 2021 and from January 1 to March 31 2022.
The least used open station in 2021-22 was Elton & Orston. Located between Nottingham and Grantham, this is only served by one East Midlands Railway train each way per day. ORR estimated that it was used by just 40 passengers during the year, down from 68 in the year to March 2020.
Commenting on the figures published in November 24, ORR's Director of Planning & Performance Feras Alshaker said 'it is heartening to see passengers return to travelling by rail following what was a difficult period for the industry during the pandemic. There's still some way to go in order for station usage figures to return to pre-pandemic levels.'
Andy Bagnall, Chief Executive of industry association Rail Partners, said 'while it is good to see customers are returning to the railway, today's station usage statistics underline the challenge the industry faces to attract customers back to the railway in greater numbers, and secure for Britain the environmental and economic benefits a thriving railway supports.
'We need reform to secure the railway's future, and that means ensuring operators have the flexibility and freedoms to use their commercial acumen to make rail an attractive and reliable choice for customers, right across the country.'
Websites
We are not responsible for the content of external sites