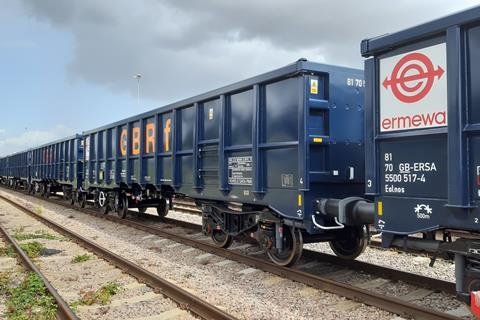 UK: The Private Wagon Federation has rebranded and incorporated as Rail Wagon Association Ltd, in a move which the industry association said was intended to enable it to provide a stronger focus on facilitating the development and maintenance of wagons.
The organisation, which was originally formed in 1977, works closely with government departments, regulatory bodies and technical committees. Its members include a range of companies covering wagon users, suppliers and maintainers, as well as freight operating companies, support service providers and other stakeholders.
The board comprises Chairman Rob Brook from VTG, Vice-Chairman Les Bryant of Davis Wagon Services and General Manager Steve Taylor, along with Colin Denman of VTG Rail, Guy Peasley of GB Railfreight, Richard Allen of Ermewa and Tim Gabb from Freightliner.
'As more shippers come to realise the benefits of putting their goods onto rail, the greater the need for fully optimised and enhanced wagon fleets', said Brook on November 16. 'The digitalisation of wagons is critical to the future development of the sector and unlocks powerful new potential in providing shippers greater efficiency gains and crucial visibility of their goods in transit. Rail freight needs to engage and come together to embrace this powerful technology and RWA will play a key role in facilitating that change.'
Taylor said 'maintaining our reputation within the industry for engineering expertise is very important to us and so we will continue to use our strapline; "Putting Wagons First" to mark this heritage', adding that 'the PWF achieved a huge amount over the years. We have played a leading role in facilitating the introduction of the Entities in Charge of Maintenance legislation and in supporting our members throughout the Brexit transition.'
RWA maintains close links with the Rail Freight Group, and the two organisations will hold a members-only joint meeting on December 8 to examine the development of digital automatic couplers.