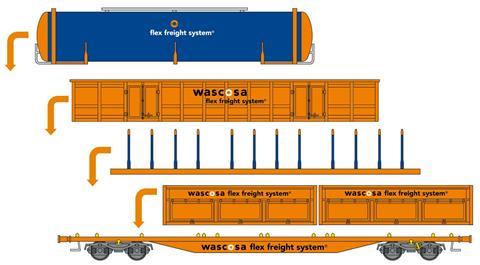 UK: Greenbrier Europe is to build 570 wagons which infrastructure Network Rail will lease from Wascosa under a 10-year deal which includes maintenance by GB Railfreight.
The contract, announced on October 29, includes Falcon box wagons, JNA wagons for transporting bulk ballast and Flex Freight System modular wagons developed by Wascosa for the transport of track panels, sleepers, switches, rails and loose materials.
Wascosa Chairman and owner Philipp Müller said the 'landmark' contract was the result of two years of intensive team work, and 'recognition of our determination to develop efficient and innovative solutions for wagon users'.
The Swiss leasing company has also recently delivered Flex Freight wagons to Sersa Switzerland.
'Some 10 years after the first presentation of the Wascosa Flex Freight system, modular freight wagons are today firmly established in the market', said Irmhild Saabel, Head of Business Development as Wascosa. 'In the future, they will account for a substantial share of new purchases made to replace old rolling stock. This will be the case for standard freight wagons, but also for specialist freight wagons.'