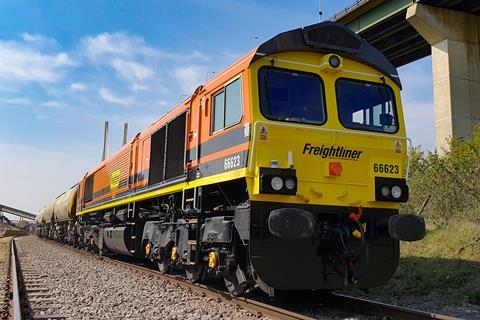 UK: Funding has been awarded for the development of a low-cost tool allowing train operators and their customers estimate accurately the emissions produced by different traction, route and loading options in order to assess the benefits of modal shift to rail.
Network Rail will also be able to use the Rail Freight Energy & Emissions Calculator to optimise timetables, take better informed decisions on the impact of delays or the operation of longer trains, and to analyse the potential impact of different electrification strategies on freight operations.
The project is being led by the University of Hull's Logistics Institute, with energy and emissions calculations by consultants from Aether and Carrickarory and an expert from the University of Derby. Genesee & Wyoming subsidiary Freightliner is partnering with the consortium, which has been awarded £345 358 of funding in the latest round of the Department for Transport's First of a Kind innovation programme.
REEC will be deployed on the existing NR+ rail freight planning platform which was developed by University of Hull to provide freight operators with information including loading gauges, permitted weights and electrification constraints. This will be augmented with gradient and line speed data and train performance modelling using On-Train Monitoring Recorder data, enabling users to calculate energy usage and emissions for a discrete track segment much more accurately than by using simplistic g/km emission factors.
'Building on our innovative NR+ platform, our energy and emissions calculator will provide much more precise emissions data', explained Amar Ramudhin, director of the Logistics Institute. 'This will allow DfT and Network Rail to align their investment on rail electrification to areas with higher emissions and lead to opportunities to plan routes that are lower in carbon emissions, contribution to the UK's commitment to providing a more reliable, efficient, and greener railway'.