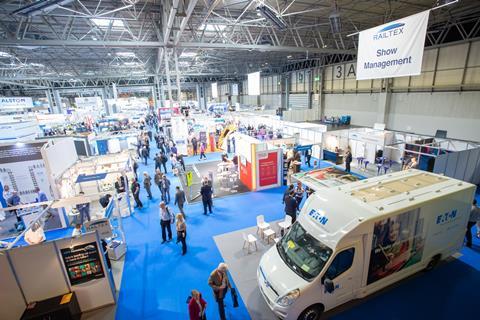 UK: The next Railtex/Infrarail trade fair showcasing railway technology and infrastructure is to take place at the London Olympia exhibition centre from May 10-12.
Railtex/Infrarail was one of the sector's first live events to return after the pandemic, with 5 000 industry professionals in attendance at the last event in Birmingham in September 2021.
'Last September was all about restoring opportunities for the rail sector to finally reconnect and meet in person', said Olaf Freier, Railtex/Infrarail Portfolio Director at fair organiser Mack-Brooks Exhibitions. 'For the upcoming show in May, we will intensify our efforts to further promote and support the rail industry's progress in the post-pandemic world which will very much depend on the successful delivery of technology across the network.'
Exhibits will cover rolling stock technology, track and infrastructure, signalling and communications, vehicle maintenance equipment, fare collection systems, rolling stock leasing, electronics, cables and many other specialised products for rail and public transport systems.
The events programme includes the Future Focus Conference and Unlocking Innovation, the Railway Industry Association's accelerator programme. A Recruitment Wall will provide opportunities to discuss career options.
'Visitors come from railway management, engineering, planning and technical design backgrounds, with real purchasing decision powers and investment plans', said Freier. 'Meeting suppliers from the entire railway supply chain will help them identify the right technologies that hold the most potential for their railway operations.'